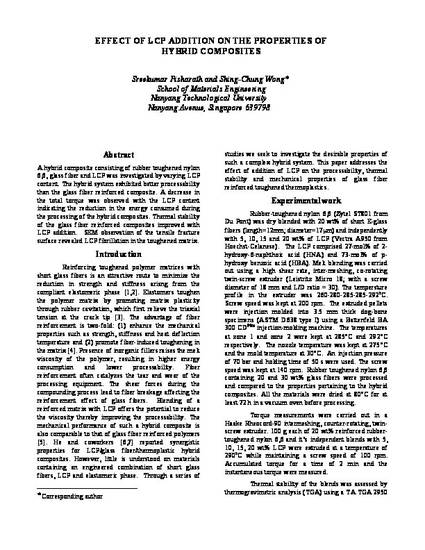 Article
Effect of LCP Addition on the Properties of Hybrid Composites
Proceedings of the 60th Annual Technical Conference of the Society of Plastics Engineers
Document Type
Conference Proceeding
Publication Date
1-1-2002
Abstract
A hybrid composite consisting of rubber toughened nylon 6,6, glass fiber and LCP was investigated by varying LCP content. The hybrid system exhibited better processability than the glass fiber reinforced composite. A decrease in the total torque was observed with the LCP content indicating the reduction in the energy consumed during the processing of the hybrid composites. Thermal stability of the glass fiber reinforced composites improved with LCP addition. SEM observation of the tensile fracture surface revealed LCP fibrillation in the toughened matrix.
Citation Information
Sreekumar Pisharath and Shing Chung Josh Wong. "Effect of LCP Addition on the Properties of Hybrid Composites"
Proceedings of the 60th Annual Technical Conference of the Society of Plastics Engineers
Vol. II (2002) p. 1404 - 1408
Available at: http://works.bepress.com/shing-chung_wong/107/