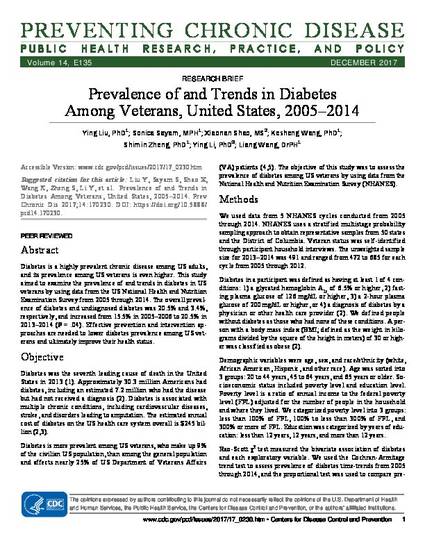 Article
Prevalence of and Trends in Diabetes Among Veterans, United States, 2005–2014
Preventing Chronic Disease
Publication Date
12-14-2017
Description
Diabetes is a highly prevalent chronic disease among US adults, and its prevalence among US veterans is even higher. This study aimed to examine the prevalence of and trends in diabetes in US veterans by using data from the US National Health and Nutrition Examination Survey from 2005 through 2014. The overall prevalence of diabetes and undiagnosed diabetes was 20.5% and 3.4%, respectively, and increased from 15.5% in 2005–2006 to 20.5% in 2013–2014 (P = .04). Effective prevention and intervention approaches are needed to lower diabetes prevalence among US veterans and ultimately improve their health status.
Citation Information
Ying Liu, Sonica Sayam, Xiaonan Shao, Kesheng Wang, et al.. "Prevalence of and Trends in Diabetes Among Veterans, United States, 2005–2014"
Preventing Chronic Disease
Vol. 14 (2017) p. E135 ISSN: 1545-1151
Available at: http://works.bepress.com/shimin-zheng/94/