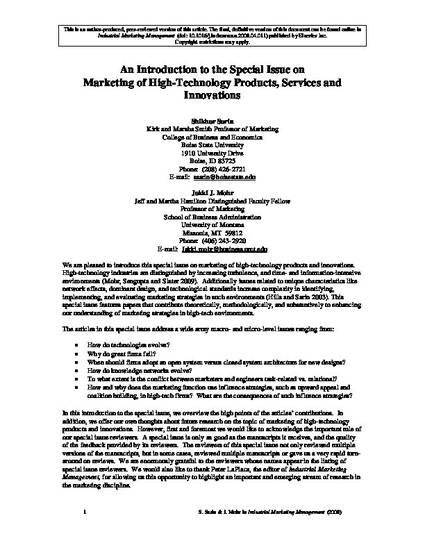 Article
An Introduction to the Special Issue on Marketing of High-Technology Products, Services and Innovations
Industrial Marketing Management
Publication Date
8-1-2008
DOI
http://dx.doi.org/10.1016/j.indmarman.2008.04.011
Abstract
We are pleased to introduce this special issue on marketing of high-technology products and innovations. High-technology industries are distinguished by increasing turbulence, and time-and information-intensive environments (Mohr, Sengupta, & Slater, in press). Additionally, issues related to unique characteristics like network effects, dominant design, and technological standards increase complexity in identifying, implementing, and evaluating marketing strategies in such environments (Hills & Sarin, 2003). This special issue features papers that contribute theoretically, methodologically, and substantively to enhancing our understanding of marketing strategies in high-tech environments.
Citation Information
Shikhar Sarin and Jakki Mohr. "An Introduction to the Special Issue on Marketing of High-Technology Products, Services and Innovations"
Industrial Marketing Management
(2008)
Available at: http://works.bepress.com/shikhar_sarin/14/