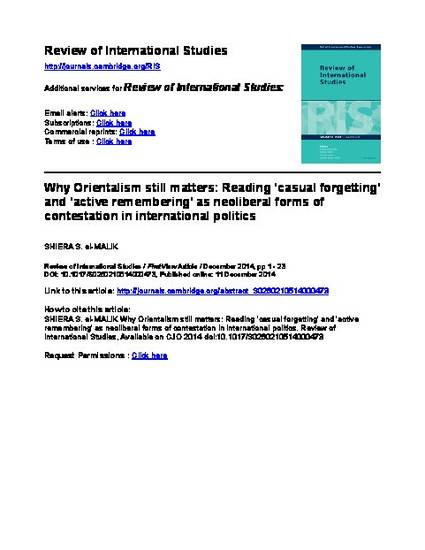 Article
Why Orientalism Still Matters: Reading 'casual forgetting' and 'active remembering' as neoliberal forms of contestation in international politics
Review of International Studies (2015)
Abstract
In 2007, the
British Journal of Politics and International Relations (BJPIR)
devoted an issue to gendering International Relations. It opens with Cynthia Enloe addressing the 'politics of casual forgetting'. I investigate this notion of casual forgetting using a framework informed by postcolonial and feminist scholarship. Working with ideas drawn from critiques of Orientalism and neoliberalism, I examine knowledge practices that center binaries as forms of objectivity that disembed phenomena from context, and as forms of over-simplification that flatten the appearance of complexity. Together, these practices have a depoliticizing effect; they obscure contestation, situate hierarchy as natural, and separate analysis from its embeddedness in historical and political conditions, even in work guided by critical agendas. I trace these depoliticizing practices in a conversation in the 2007 special issue of BJPIR and show that Enloe's comments present a push for critical analysis that was overlooked by the special issue's editors in their attempt to more clearly delineate the sub-discipline of Gender and International Relations as distinct from feminist IR. This article suggests that Enloe's plea is effectively one for 'active remembering' as a way to render visible the insidious forms of power that give a stable appearance to categories of social phenomena.
Keywords
Feminism,
neoliberalism,
Orientalism,
Enloe,
contestation
Publication Date
July, 2015
Citation Information
Shiera S Malik. "Why Orientalism Still Matters: Reading 'casual forgetting' and 'active remembering' as neoliberal forms of contestation in international politics"
Review of International Studies
Vol. 41 Iss. 3 (2015) p. 503 - 525
Available at: http://works.bepress.com/shiera_malik/11/