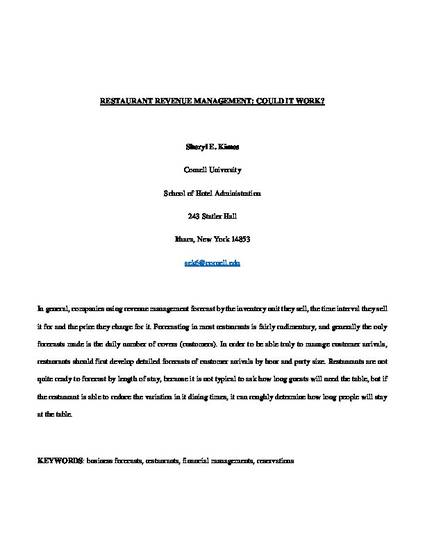 Article
Restaurant Revenue Management: Could It Work?
Articles and Chapters
Publication Date
4-1-2005
Abstract
In general, companies using revenue management forecast by the inventory unit they sell, the time interval they sell it for and the price they charge for it. Forecasting in most restaurants is fairly rudimentary, and generally the only forecasts made is the daily number of covers (customers). In order to be able truly to manage customer arrivals, restaurants should first develop detailed forecasts of customer arrivals by hour and party size. Restaurants are not quite ready to forecast by length of stay, because it is not typical to ask how long guests will need the table, but if the restaurant is able to reduce the variation in it dining times, it can roughly determine how long people will stay at the table.