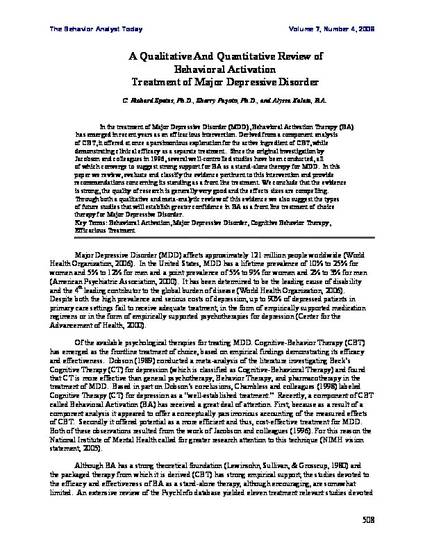 Article
A Qualitative And Quantitative Review of Behavioral Activation Treatment of Major Depressive Disorder
Preventive and Behavioral Medicine Publications and Presentations
UMMS Affiliation
Department of Medicine, Division of Preventive and Behavioral Medicine
Subjects
Depressive Disorder, Major; Behavior Therapy; Cognitive Therapy
Abstract
In the treatment of Major Depressive Disorder (MDD), Behavioral Activation Therapy (BA) has emerged in recent years as an efficacious intervention. Derived from a component analysis of CBT, it offered at once a parsimonious explanation for the active ingredient of CBT, while demonstrating clinical efficacy as a separate treatment. Since the original investigation by Jacobson and colleagues in 1996, several well-controlled studies have been conducted, all of which converge to suggest strong support for BA as a stand-alone therapy for MDD. In this paper we review, evaluate and classify the evidence pertinent to this intervention and provide recommendations concerning its standing as a front line treatment. We conclude that the evidence is strong, the quality of research is generally very good and the effects sizes are compelling. Through both a qualitative and meta-analytic review of this evidence we also suggest the types of future studies that will establish greater confidence in BA as a front line treatment of choice therapy for Major Depressive Disorder.
Rights and Permissions
Citation: Spates, R.C., Pagoto, S.L., & Kalata, A. (2006). A qualitative and quantitative review of behavioral activation treatment of major depressive disorder. The Behavior Analyst Today, 7(4), 508-521.
Link to article on publisher's website
Citation Information
C. Richard Spates, Sherry L. Pagoto and Alyssa Kalata. "A Qualitative And Quantitative Review of Behavioral Activation Treatment of Major Depressive Disorder" Vol. 7 Iss. 4 (2006)
Available at: http://works.bepress.com/sherry_pagoto/50/