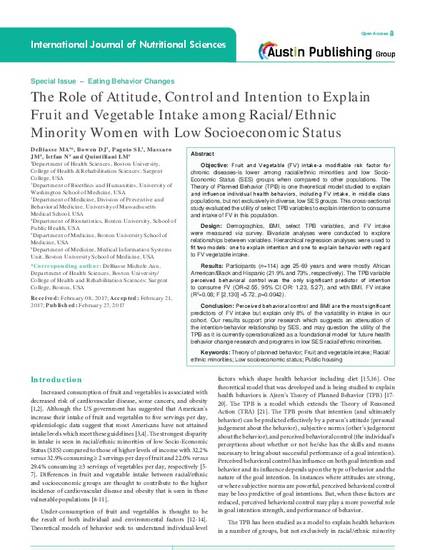 Article
The Role of Attitude, Control and Intention to Explain Fruit and Vegetable Intake among Racial/Ethnic Minority Women with Low Socioeconomic Status
UMass Worcester Prevention Research Center Publications
UMMS Affiliation
UMass Worcester Prevention Research Center; Department of Medicine, Division of Preventive and Behavioral Medicine
Publication Date
2-27-2017
Abstract
Objective: Fruit and Vegetable (FV) intake-a modifiable risk factor for chronic diseases-is lower among racial/ethnic minorities and low Socio- Economic Status (SES) groups when compared to other populations. The Theory of Planned Behavior (TPB) is one theoretical model studied to explain and influence individual health behaviors, including FV intake, in middle class populations, but not exclusively in diverse, low SES groups. This cross-sectional study evaluated the utility of select TPB variables to explain intention to consume and intake of FV in this population.
Design: Demographics, BMI, select TPB variables, and FV intake were measured via survey. Bivariate analyses were conducted to explore relationships between variables. Hierarchical regression analyses were used to fit two models: one to explain intention and one to explain behavior with regard to FV vegetable intake.
Results: Participants (n=114) age 25-69 years and were mostly African American/Black and Hispanic (21.9% and 73%, respectively). The TPB variable perceived behavioral control was the only significant predictor of intention to consume FV (OR=2.55, 95% CI OR: 1.23, 5.27), and with BMI, FV intake (R2=0.08; F [2,130] =5.72, p=0.0042).
Conclusion: Perceived behavioral control and BMI are the most significant predictors of FV intake but explain only 8% of the variability in intake in our cohort. Our results support prior research which suggests an attenuation of the intention-behavior relationship by SES, and may question the utility of the TPB as it is currently operationalized as a foundational model for future health behavior change research and programs in low SES racial/ethnic minorities.
Keywords
Theory of planned behavior,
Fruit and vegetable intake,
Racial/ ethnic minorities,
Low socioeconomic status,
Public housing
Source
DeBiasse MA, Bowen DJ, Pagoto SL, Massaro JM, Istfan N and Quintiliani LM. The Role of Attitude, Control and Intention to Explain Fruit and Vegetable Intake among Racial/Ethnic Minority Women with Low Socioeconomic Status. Int J Nutr Sci. 2017; 2(1): 1015.
Link to article on publisher's website
Creative Commons License
Creative Commons Attribution 4.0
Citation Information
Michele DeBiasse, Deborah J. Bowen, Sherry L. Pagoto, Joseph M. Massaro, et al.. "The Role of Attitude, Control and Intention to Explain Fruit and Vegetable Intake among Racial/Ethnic Minority Women with Low Socioeconomic Status" Vol. 2 Iss. 1 (2017)
Available at: http://works.bepress.com/sherry_pagoto/166/