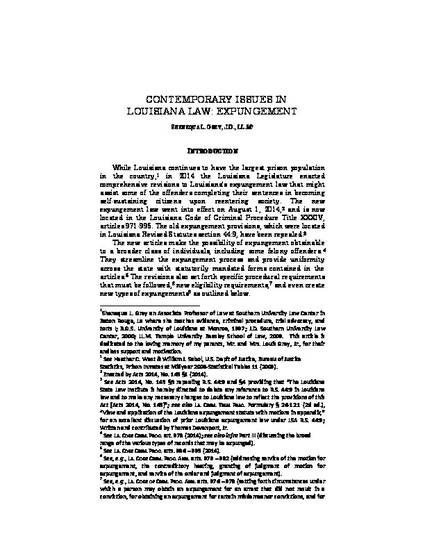 Article
Contemporary Issues in Louisiana Law: Expungement
Southern University Law Center Law Review (2015)
Abstract
While Louisiana continues to have the largest prison population in the country,in 2014 the Louisiana Legislature enacted comprehensive revisions to Louis
iana's
expungement law that might assist some of the offenders completing their sentences in becoming self-sustaining citizens upon reentering society. The new expungement law went into effect on August 1, 2014,and makes the possibility of expungement obtainable   to a broader class of individuals, including some felony offenders.They streamline the expungement process and provide uniformity across the state with statutorily mandated forms contained in the articles.The revisions also set forth specific procedural requirements that must be followed,new eligibility requirements,
7
and even create new types of expungements
as outlined below.
These comprehensive measures were taken in response to new federal laws and hiring criteriathat preclude individuals with a felony conviction from obtaining gainful employment for long periods of time after the conviction. By including certain limitations and exclusions as to which records can be expunged,
Louisiana's new law
strikes a balance between the need for viable employment opportunities for these individuals, and the State
'
s interest in public safety by having the records accessible for certain   purposes.
This article gives a general overview of the expungement law as it was enacted in 2014, as well as additional minor revisions enacted in the 2015 Regular Legislative Session.Specifically, this article will address: what an expungement means in Louisiana;the goals of enacting the expungement law and the relative benefits of obtaining an expungement;the qualifications for expunging the various types of records;
the frequency with which various types of expungements may be obtained;the fees associated with obtaining an expungement;
other procedural steps associated with obtaining an expungement;handling post-expungement questions regarding expunged records,and concerns regarding possible impediments  to the effectiveness of the expungement  provisions.
Publication Date
Fall 2015
Citation Information
Shenequa L. Grey, J.D., LL.M.. "Contemporary Issues in Louisiana Law: Expungement"
Southern University Law Center Law Review
(2015)
Available at: http://works.bepress.com/shenequa_grey/6/