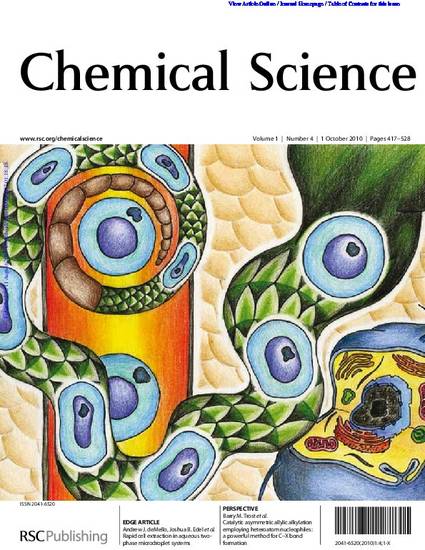 Article
Rapid cell extraction in aqueous two-phase microdroplet systems
Chemical Science
Publication Date
8-11-2010
Abstract
Distinguishing specific cells is an essential technique in cell research and clinical diagnostics. We report a novel method to passively isolate and extract cells in a microfluidic device. We utilise a droplet-based microfluidic system to generate an aqueous two phase system in which aqueous droplets consist of two phases in the form of a double emulsion. Specifically, we generate PEG droplets that completely encapsulate DEX droplets within a microfluidic channel. Target cells can be introduced directly into the droplets and driven to partition to the more favourable phase, whilst still being contained within the aqueous droplet. Human T lymphoma cells, with diameters in the range of 10–15 μm, are chosen as a model cell line to demonstrate the partitioning.
Citation Information
Kalpana Vijayakumar, Shelly Gulati, Andrew J. de Mello and Joshua B. Edel. "Rapid cell extraction in aqueous two-phase microdroplet systems"
Chemical Science
Vol. 1 Iss. 4 (2010) p. 447 - 452 ISSN: 2041-6520
Available at: http://works.bepress.com/shelly-gulati/55/