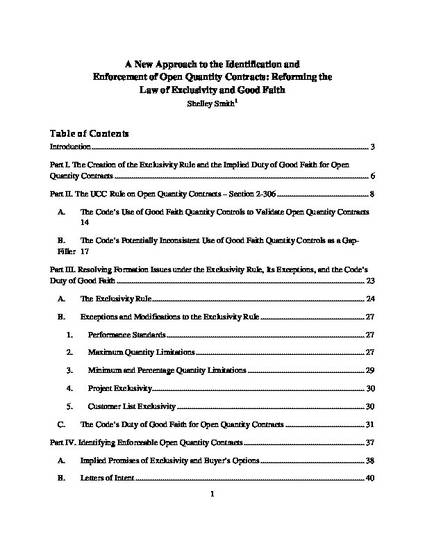 Article
A New Approach to the Identification and Enforcement of Open Quantity Contracts: Reforming the Law of Exclusivity and Good Faith
Valparaiso University Law Review (2009)
Abstract
This article identifies three areas for reform in the area of open quantity contracts. First, there is a conflict among the courts over whether the exclusivity rule, variations on the exclusivity rule, or the duty of good faith are required to satisfy the mutuality and definiteness doctrines for enforcing open quantity term contracts. I propose a new validation rule to resolve this conflict. Second, courts are utilizing flawed interpretive methods to conclude that that business documents such as master purchase agreements, volume discount offers, blanket purchase orders and buyer's options are binding requirements contracts. The article offers a principled basis for identifying valid open quantity contracts that will lead to consistent results without strait-jacketing the parties' ability to tailor the contract to their business needs. Finally, the article suggests an amendment to UCC 2-306(1) to provide a uniform standard for breach of the implied duty of good faith on the quantity-determining party.
Keywords
requirements contracts,
output contracts,
open quantity contracts,
good faith
Publication Date
Spring 2009
Citation Information
Shelley Smith. "A New Approach to the Identification and Enforcement of Open Quantity Contracts: Reforming the Law of Exclusivity and Good Faith"
Valparaiso University Law Review
43.3 (2009); 871-987. Available at: http://works.bepress.com/shelley_smith/2