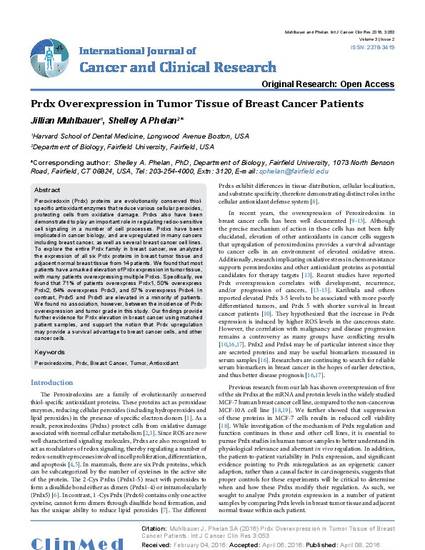 Article
Prdx Overexpression in Tumor Tissue of Breast Cancer Patients
International Journal of Cancer and Clinical Research
Article Version
Publisher's PDF
Publication Date
1-1-2016
Abstract
Peroxiredoxin (Prdx) proteins are evolutionarily conserved thiol-specific antioxidant enzymes that reduce various cellular peroxides, protecting cells from oxidative damage. Prdxs also have been demonstrated to play an important role in regulating redox-sensitive cell signaling in a number of cell processes. Prdxs have been implicated in cancer biology, and are upregulated in many cancers including breast cancer, as well as several breast cancer cell lines. To explore the entire Prdx family in breast cancer, we analyzed the expression of all six Prdx proteins in breast tumor tissue and adjacent normal breast tissue from 14 patients. We found that most patients have a marked elevation of Prdx expression in tumor tissue, with many patients overexpressing multiple Prdxs. Specifically, we found that 71% of patients overexpress Prdx1, 50% overexpress Prdx2, 64% overexpress Prdx3, and 57% overexpress Prdx4. In contrast, Prdx5 and Prdx6 are elevated in a minority of patients. We found no association, however, between the incidence of Prdx overexpression and tumor grade in this study. Our findings provide further evidence for Prdx elevation in breast cancer using matched patient samples, and support the notion that Prdx upregulation may provide a survival advantage to breast cancer cells, and other cancer cells.
Published Citation
Muhlbauer, J., Phelan, S. A. (April 2016) Prdx Overexpression in Tumor Tissue of Breast Cancer Patients. International Journal of Cancer and Clinical Research 3(4), pp.53-56. doi:10.23937/2378-3419/3/2/1053.
DOI
10.23937/2378-3419/3/2/1053
Citation Information
Jillian Muhlbauer and Shelley A. Phelan. "Prdx Overexpression in Tumor Tissue of Breast Cancer Patients"
International Journal of Cancer and Clinical Research
Vol. 3 Iss. 4 (2016)
Available at: http://works.bepress.com/shelley_phelan/11/