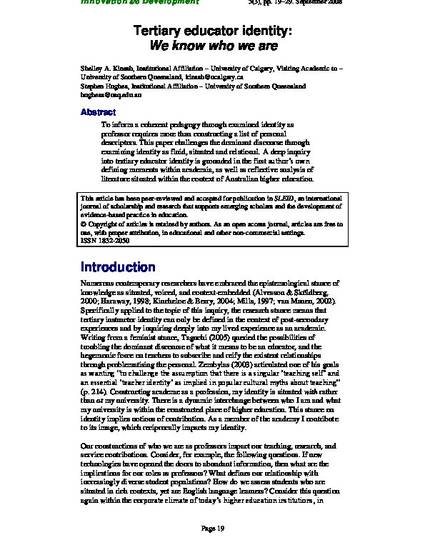 Article
Tertiary educator identity: We know who we are
Studies in Learning, Evaluation, Innovation and Development (2008)
Abstract
To inform a coherent pedagogy through examined identity as professor requires more than constructing a list of personal descriptors. This paper challenges the dominant discourse through examining identity as fluid, situated and relational. A deep inquiry into tertiary educator identity is grounded in the first author's own defining moments within academia, as well as reflective analysis of literature situated within the context of Australian higher education.
Keywords
tertiary instructor,
research,
service contributions,
higher education
Publication Date
September, 2008
Citation Information
Kinash, S. & Hughes, S. (2008). Tertiary educator identity: We know who we are. Studies in Learning, Evaluation, Innovation and Development, 5(3). 19-29. Retrieved 12 September 2008.
For further information please access the publishers website.
Copyright © Shelley Kinash & Stephen Hughes, 2008.