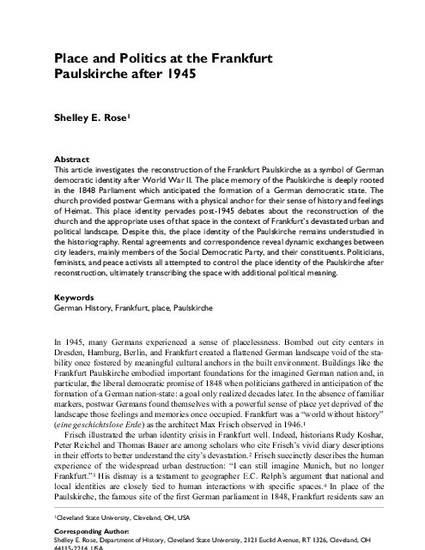 Article
Place and Politics at the Frankfurt Paulskirche after 1945
Journal of Urban History
Publication Date
1-1-2016
Abstract
This article investigates the reconstruction of the Frankfurt Paulskirche as a symbol of German democratic identity after World War II. The place memory of the Paulskirche is deeply rooted in the 1848 Parliament which anticipated the formation of a German democratic state. The church provided postwar Germans with a physical anchor for their sense of history and feelings of Heimat. This place identity pervades post-1945 debates about the reconstruction of the church and the appropriate uses of that space in the context of Frankfurt's devastated urban and political landscape. Despite this, the place identity of the Paulskirche remains understudied in the historiography. Rental agreements and correspondence reveal dynamic exchanges between city leaders, mainly members of the Social Democratic Party, and their constituents. Politicians, feminists, and peace activists all attempted to control the place identity of the Paulskirche after reconstruction, ultimately transcribing the space with additional political meaning.
DOI
10.1177/0096144214566968
Publisher's Statement
(c) 2016 SAGE Publications
Citation Information
Shelley Rose. "Place and Politics at the Frankfurt Paulskirche after 1945"
Journal of Urban History
Vol. 42 Iss. 1 (2016) p. 145 - 161
Available at: http://works.bepress.com/shelley-rose/8/