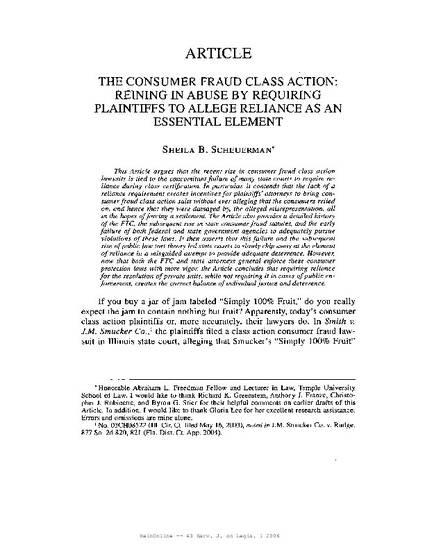 Article
The Consumer Fraud Class Action: Reining in Abuse by Requiring Plaintiffs to Allege Reliance as an Essential Element
43 HARV. J. LEGIS. 1 (2006)
Abstract
This article argues that the recent rise in consumer fraud class action lawsuits is tied to the concomitant failure of many state courts to require reliance during class certification. The Article also provides a detailed history of the FTC, the subsequent rise in consumer fraud statutes and the early failure of both federal and state government agencies to adequately pursue violations of these laws.
Publication Date
August, 2006
Citation Information
Sheila B. Scheuerman. "The Consumer Fraud Class Action: Reining in Abuse by Requiring Plaintiffs to Allege Reliance as an Essential Element"
43 HARV. J. LEGIS. 1
(2006)
Available at: http://works.bepress.com/sheila_scheuerman/1/