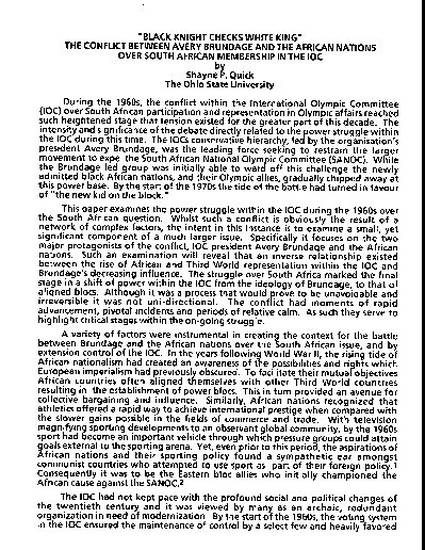 Article
"Black knight checks white king": The conflict between Avery Brundage and the African nations over South African membership in the IOC
Sport history review (formerly the Canadian journal of the history of sport) (1990)
Abstract
Extract: During the 1960s, the conflict within the International Olympic Committee (IOC) over South African participation and representation in Olympic affairs reached such heightened stage that tension existed for the greater part of this decade. The intensity and significance of the debate directly related to the power struggle within the IOC during this time. The IOCs conservative hierarchy, led by the organisation's president Avery Brundage, was the leading force seeking to restrain the larger movement to expel the South African National Olympic Committee (SANOC). While the Brundage led group was initially able to ward off this challenge the newly admitted black African nations, and their Olympic allies, gradually chipped away at this power base. By the start of the 1970s the tide of the battle had turned in favour of "the new kid on the block".
Keywords
South Africa,
International Olympic Committee,
Avery Brundage
Publication Date
December 1, 1990
Citation Information
Shayne P. Quick. ""Black knight checks white king": The conflict between Avery Brundage and the African nations over South African membership in the IOC"
Sport history review (formerly the Canadian journal of the history of sport)
Vol. 21 Iss. 2 (1990)
Available at: http://works.bepress.com/shayne_quick/5/