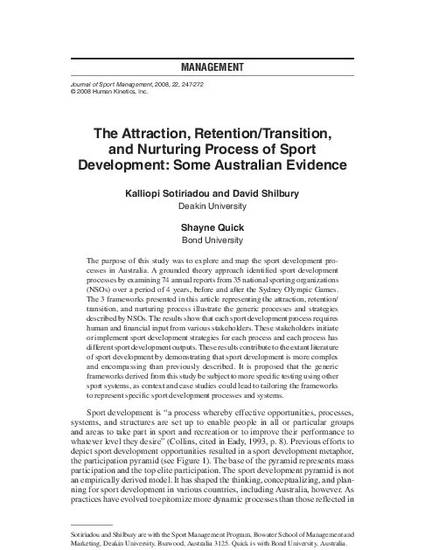 Article
The attraction, retention/transition, and nurturing process of sport development: Some Australian evidence
Journal of sport management
Date of this Version
5-1-2008
Document Type
Journal Article
Abstract
The purpose of this study was to explore and map the sport development processes in Australia. A grounded theory approach identified sport development processes by examining 74 annual reports from 35 national sporting organizations (NSOs) over a period of 4 years, before and after the Sydney Olympic Games. The 3 frameworks presented in this article representing the attraction, retention/ transition, and nurturing process illustrate the generic processes and strategies described by NSOs. The results show that each sport development process requires human and financial input from various stakeholders. These stakeholders initiate or implement sport development strategies for each process and each process has different sport development outputs. These results contribute to the extant literature of sport development by demonstrating that sport development is more complex and encompassing than previously described. It is proposed that the generic frameworks derived from this study be subject to more specific testing using other sport systems, as context and case studies could lead to tailoring the frameworks to represent specific sport development processes and systems.
Citation Information
Kalliopi Sotiriadou, David Shilbury and Shayne Quick. "The attraction, retention/transition, and nurturing process of sport development: Some Australian evidence"
Journal of sport management
Vol. 22 Iss. 3 (2008) p. 247 - 272
Available at: http://works.bepress.com/shayne_quick/2/