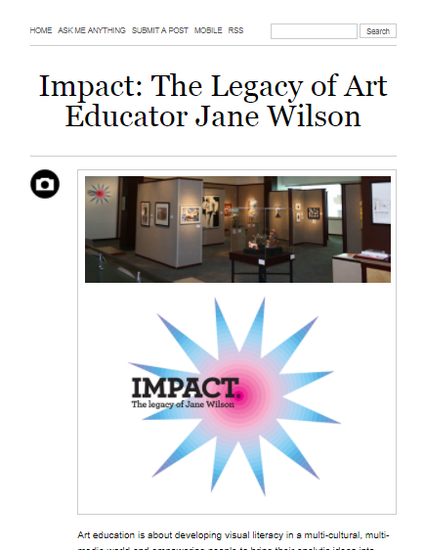 Popular Press
Impact: The Legacy of Art Educator Jane Wilson
Boise State Student Union Fine Arts Gallery (2012)
Abstract
Art education is about developing visual literacy in a multi-cultural, multi-media world and empowering people to bring their analytic ideas into synthetic form. This process of creating teaches patience, endurance, respect for materials, and adds to our feeling of usefulness and security. Learning to form makes us understand all forming; this is the fundamental knowing. Jane Wilson, art educator at Bishop Kelly High School for thirty-three years, was committed to teaching visual literacy, creativity and skills for fundamental knowing. She taught thousands of students throughout her career, planting seeds in their lives, opening them to growth in self-awareness, self-expression, and self-confidence. Mrs. Wilson's impact is profound. Inspired by her teaching and her example, hundreds of her students have gone on to become professional artists, designers, architects, and educators. Hundreds more still have a deep love of making and looking at art and participate in these interests whenever they can, recognizing the enrichment it adds to their lives. For this exhibition, we have invited art and design professionals to contribute their work to a visual arts show highlighting and celebrating the life, work and impact of Jane Wilson. We will also be including artwork completed by Jane Wilson, herself. The second goal of the show is to serve as a tangible example of the unquestionably, invaluable role of a quality art education program, and the profound impact such a program can have on a teacher, her individual students, a city, such as Boise, and the world.
Keywords
impact,
Jane Wilson,
art education
Publication Date
Fall September, 2012
Citation Information
Shawna Hanel and Tricia A. Stackle. "Impact: The Legacy of Art Educator Jane Wilson"
Boise State Student Union Fine Arts Gallery
(2012)
Available at: http://works.bepress.com/shawna_hanel/6/