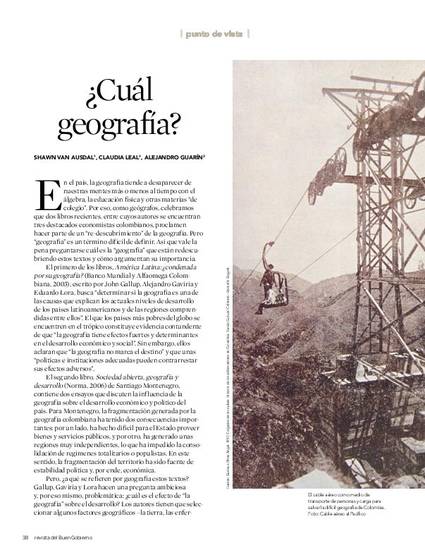 Popular Press
¿Cuál geografía?
Revista del Buen Gobierno (2007)
Abstract
A review of the conception of geography in two books written by economists: John Gallup, Alejandro Gaviria and Eduardo Lora, América Latina: ¿condenada por su geografía? (Banco Mundial y Alfaomega Colombiana, 2003); and
Santiago Montenegro, Sociedad abierta, geografía y desarrollo (Norma, 2006).
Keywords
geography,
economic geography,
geographic determinism
Publication Date
March 1, 2007
Citation Information
Shawn Van Ausdal, Claudia Leal and Alejandro Guarín. "¿Cuál geografía?"
Revista del Buen Gobierno
Iss. 3 (2007)
Available at: http://works.bepress.com/shawn_van_ausdal/4/