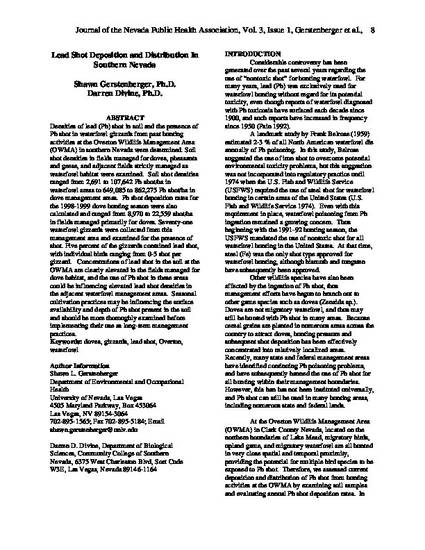 Article
Lead Shot Deposition and Distribution In Southern Nevada
Nevada Journal of Public Health
Keywords
Doves,
Gizzard,
Gizzards,
Lead shot,
Nevada – Overton,
Pigeons,
Shot (Pellets) – Environmental aspects,
Soils – Lead content,
Waterfowl
Abstract
Densities of lead (Pb) shot in soil and the presence of Pb shot in waterfowl gizzards from past hunting activities at the Overton Wildlife Management Area (OWMA) in southern Nevada were determined. Soil shot densities in fields managed for doves, pheasants and geese, and adjacent fields strictly managed as waterfowl habitat were examined. Soil shot densities ranged from 2,691 to 107,642 Pb shot/ha in waterfowl areas to 649,085 to 862,275 Pb shot/ha in dove management areas. Pb shot deposition rates for the 1998-1999 dove hunting season were also calculated and ranged from 8,970 to 22,559 shot/ha in fields managed primarily for doves. Seventy-one waterfowl gizzards were collected from this management area and examined for the presence of shot. Five percent of the gizzards contained lead shot, with individual birds ranging from 0-5 shot per gizzard. Concentrations of lead shot in the soil at the OWMA are clearly elevated in the fields managed for dove habitat, and the use of Pb shot in these areas could be influencing elevated lead shot densities in the adjacent waterfowl management areas. Seasonal cultivation practices may be influencing the surface availability and depth of Pb shot present in the soil and should be more thoroughly examined before implementing their use as long-term management practices.
Citation Information
Shawn Gerstenberger and Darren D. Divine. "Lead Shot Deposition and Distribution In Southern Nevada"
Available at: http://works.bepress.com/shawn_gerstenberger/6/