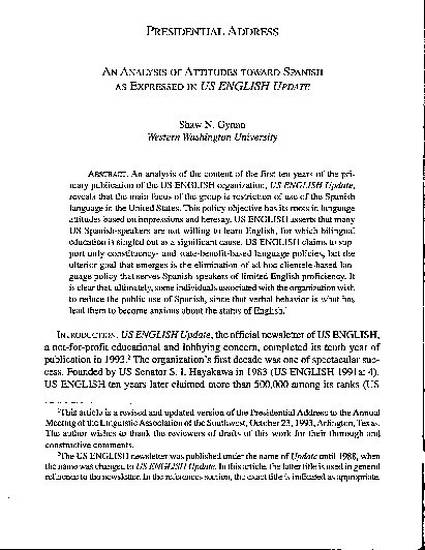 Article
An Analysis of Attitudes toward Spanish as Expressed in US English Update
Southwest Journal of Linguistics
Publication Date
1-1-1993
Abstract
An analysis of the content of the first ten years of the pri­mary publication of the US ENGLISH organization, US ENGLISH Update, reveals that the main focus of the group is restriction of use of the Spanish language in the United States. This policy objective has its roots in language attitudes based on impressions and heresay. US ENGLISH asserts that many US Spanish-speakers are not willing to learn English, for which bilingual education is singled out as a significant cause. US ENGLISH claims to sup­port only constituency- and state-benefit-based language policies, but the ulterior goal that emerges is the elimination of ad hoc clientele-based language policy that serves Spanish-speakers of limited English proficiency. It is clear that, ultimately, some individuals associated with the organization wish to reduce the public use of Spanish, since that verbal behavior is what has lead them to become anxious about the status of English.
Citation Information
Shaw N. Gynan. "An Analysis of Attitudes toward Spanish as Expressed in US English Update"
Southwest Journal of Linguistics
Vol. 12 Iss. 1 (1993) p. 1 - 38
Available at: http://works.bepress.com/shaw_gynan/14/