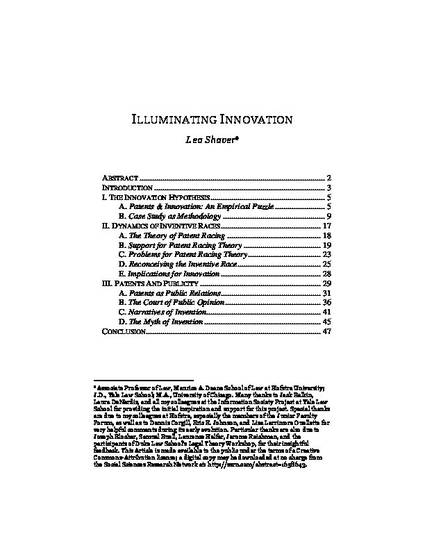 Unpublished Paper
Illuminating Innovation
ExpressO (2012)
Abstract
The central justification offered for patent protection is the need to incentivize technological innovation. Yet to date there is little empirical evidence that this aim is achieved. This Article argues that historical case studies, exploring the impact of patent law on particular fields of technological innovation, can be especially helpful in providing an empirical foundation for patent scholarship. The Article then proceeds to offer one such case study, focused on one of the most important technological revolutions of the past two centuries: electrification. Although Thomas Edison and "the incandescent lamp" have been extensively studied, so far no one has asked what light this lamp can shed on patent law and innovation policy.
This Article develops two primary lessons of this case study. First, the lightbulb is used to test and refine recently articulated theories of "patent racing" as a justification for patent protection. I conclude the racing metaphor captures an important dynamic, but insufficiently accounts for the incremental nature of innovation and the subjectivity involved in judging patent disputes. Edison's experience suggests the better analogy is the board game Risk! Second, the case illuminates a neglected dimension of patent law: the close relationship between patents and public relations. Edison masterfully manipulated the publicity value of his patents, and leveraged an intensive public relations campaign to influence the interpretation of his patent rights.
In the end, the untold legal history of the lightbulb is a cautionary tale about relying on patents to promote technological innovation. In contrast to the conventional account of patent law as an objective, market-based system for rewarding investments in innovation, this empirical case study reveals a legal system that is messy, manipulable, and fundamentally shaped by myth. Further research on this and other technologies will be necessary to determine whether the case of the lightbulb is a representative or exceptional case and to draw more general conclusions about patent law's impact of technological innovation. This Article, however, lays out a model for how such research might be approached.
Keywords
Thomas Edison,
patents,
lightbulb,
light bulb,
patent law,
innovation,
technology,
infringement,
competition,
innovation hypothesis,
myth of invention,
myth,
litigation narrative,
patent racing,
case study,
empirical legal scholarship,
innovative races
Publication Date
March 1, 2012
Citation Information
Lea B Shaver. "Illuminating Innovation"
ExpressO
(2012)
Available at: http://works.bepress.com/shaver/7/