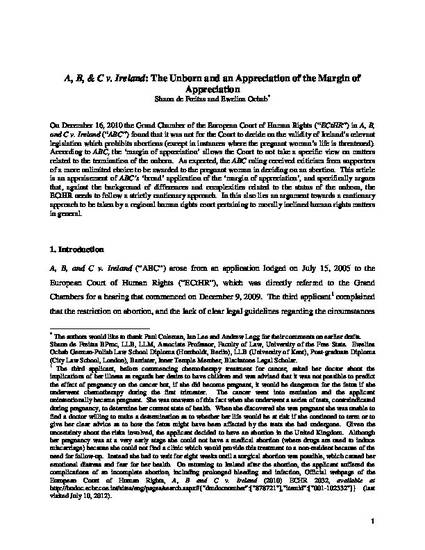 Unpublished Paper
A, B, & C v. Ireland: The Unborn and an Appreciation of the Margin of Appreciation
ExpressO (2012)
Abstract
On December 16, 2010 the Grand Chamber of the European Court of Human Rights ("ECtHR") in A, B, and C v. Ireland ("ABC") found that it was not for the Court to decide on the validity of Ireland's relevant legislation which prohibits abortions (except in instances where the pregnant woman's life is threatened). According to ABC, the 'margin of appreciation' allows the Court to not take a specific view on matters related to the termination of the unborn. As expected, the ABC ruling received criticism from supporters of a more unlimited choice to be awarded to the pregnant woman in deciding on an abortion. This article is an appraisement of ABC's 'broad' application of the 'margin of appreciation', and specifically argues that, against the background of differences and complexities related to the status of the unborn, the ECtHR needs to follow a strictly cautionary approach. In this also lies an argument towards a cautionary approach to be taken by a regional human rights court pertaining to morally inclined human rights matters in general.
Keywords
european court of human rights,
margin of appreciation,
status of the unborn,
abortion,
right to life,
A,
B,
& C v Ireland
Publication Date
July 20, 2012
Citation Information
Shaun A de Freitas. "A, B, & C v. Ireland: The Unborn and an Appreciation of the Margin of Appreciation"
ExpressO
(2012)
Available at: http://works.bepress.com/shaun_defreitas/1/