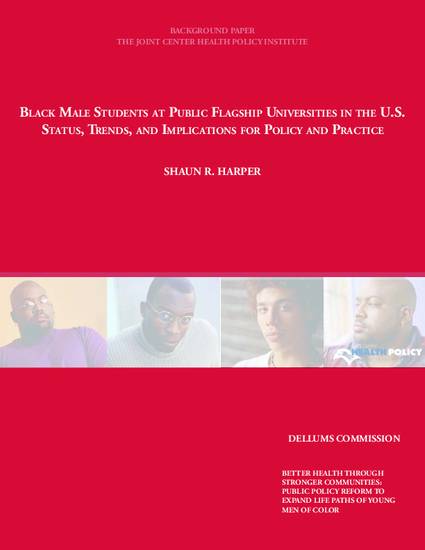 Other
Black male students at public flagship universities in the U.S.: Status, trends and implications for policy and practice
(2006)
Abstract
In The Future of the Public University in America, James Duderstadt and Farris Womack contend that public institutions of higher education are among our nation's most significant social establishments. They argue that public colleges and universities have been chiefly responsible for democratizing and extending higher education to "all citizens." They also suggest that the missions of these institutions reflect one of society's most cherished goals: access to equal opportunity through education. Throughout the book, Duderstadt and Womack describe a social contract between public higher education and the citizens it is intended to serve. Similarly, other scholars have characterized higher education as a public good with widespread social benefits through which individual participation yields positive outcomes for the larger society—crime and poverty reduction, increased civic engagement, social cooperation and cohesion, the ability of college-educated persons to create and adapt to new technologies, and so on. Most agree that public universities can and should uphold the social contract by offering equitable access and distributing resources to ensure success among diverse groups of American citizens. As evidenced throughout this report, the social contract as it relates to access and equity for black men at public colleges and universities has been breached. This report reviews the status of black men in higher education, with an emphasis on public flagship universities in each of the 50 states.
Citation Information
Harper, S. R. (2006).
Black male students at public flagship universities in the U.S.: Status, trends and implications for policy and practice.
Washington, DC: Joint Center for Political and Economic Studies.