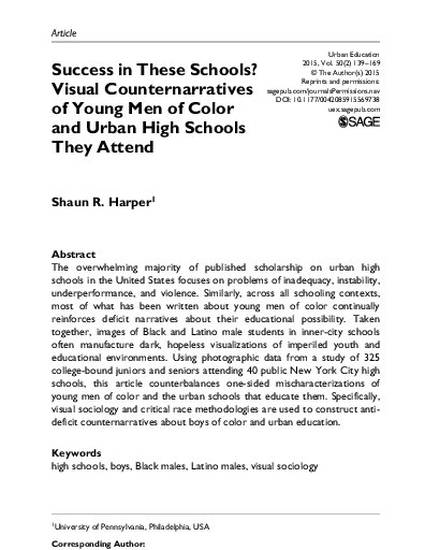 Article
Success in These Schools? Visual Counternarratives of Young Men of Color and Urban High Schools They Attend
Urban Education (2015)
Abstract
The overwhelming majority of published scholarship on urban high schools in the United States focuses on problems of inadequacy, instability, underperformance, and violence. Similarly, across all schooling contexts, most of what has been written about young men of color continually reinforces deficit narratives about their educational possibility. Taken together, images of Black and Latino male students in inner-city schools often manufacture dark, hopeless visualizations of imperiled youth and educational environments. Using photographic data from a study of 325 college-bound juniors and seniors attending 40 public New York City high schools, this article counterbalances one-sided mischaracterizations of young men of color and the urban schools that educate them. Specifically, visual sociology and critical race methodologies are used to construct anti- deficit counternarratives about boys of color and urban education.
Citation Information
Harper, S. R. (2015). Success in these schools? Visual counternarratives of young men of color and urban high schools they attend.
Urban Education, 50
(2), 139-169.