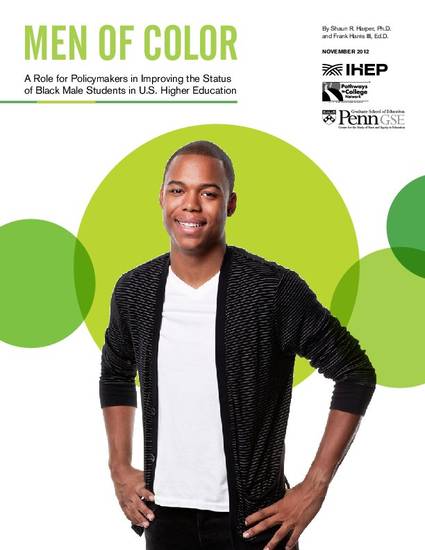 Other
A Role for Policymakers in Improving the Status of Black Male Students in U.S. Higher Education
(2012)
Abstract
Given the systemic nature of racial achievement and opportunity gaps in education and their disproportionate impact on Black men, postsecondary institutions alone cannot close them. Participation from multiple stakeholder groups is necessary. This report calls for greater involvement by federal and state policymakers, high school counselors, the National Collegiate Athletic Association (NCAA, the policymaking organization for intercollegiate athletics), community–based organizations, and other groups in ongoing efforts to improve the status of Black undergraduate men. In support of this goal, this report presents policy–relevant data from the U.S. Department of Education, U.S. Department of Justice, NCAA Federal Graduation Rates Database, and other sources to paint a statistical portrait of Black male students in postsecondary contexts. Also included is a summary of select efforts on college campuses across the country that illustrate some of the promising practices that can make a difference for Black men. Nonetheless, it is clear that well–intentioned institutional activities on their own will not substantively improve the condition of Black male collegians. Thus, the report concludes with suggestions for policymakers and other stakeholders. The current imperative to increase our nation's competitiveness in the global economy is linked to the attention and resources that policymakers devote to citizens for whom college completion rates are persistently lowest, thus Black men must be a high priority.
Keywords
Black Men,
Higher Education,
Policy
Citation Information
Harper, S. R., & Harris III, F. (2012).
A role for policymakers in improving the status of Black male students in U.S. higher education
. Washington, DC: Institute for Higher Education Policy.