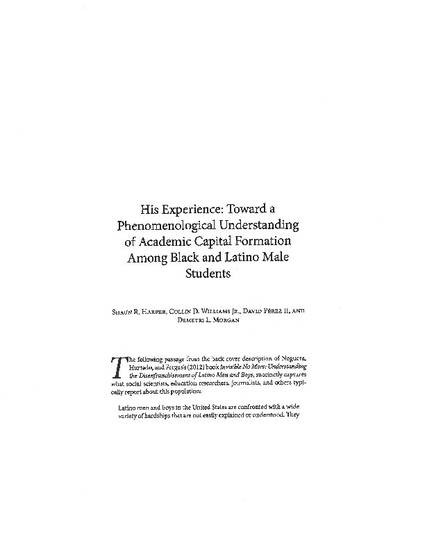 Article
His Experience: Toward a Phenomenological Understanding of Academic Capital Formation among Black and Latino Male Students
Readings on Equal Education (2012)
Abstract
St. John, Hu, and Fisher (2011) define academic capital formation as "social processes that build family knowledge of educational and career options and support navigation through educational systems." The authors suggest that particular interventions, programs, and services can equip students from lower-income backgrounds and their families with knowledge of and membership in networks that ultimately help them access colleges and universities, attain postsecondary degrees, and transition into the middle class. This chapter focuses on academic capital formation among Black and Latino male students, with a particular emphasis on giving voice to their navigational experiences along various dimensions of the St. John et al. framework. Specifically, three narratives are presented to showcase how Black and Latino men acquired and expended academic capital along their educational trajectories. The narratives chronologically detail how three different programs (Prep for Prep, Posse Scholars, and the University of Pennsylvania's Grad Prep Academy) helped these men form the academic capital necessary to transcend poverty, inequitable schooling, hopelessness, career confusion, and other threats that typically undermine academic success for Black and Latino male students in urban schools and on predominantly white college campuses. All three men ultimately ended up pursuing doctorates in the same field; two were first in their families to attend college.
Keywords
African Americans,
Latinos,
Higher Education,
Men,
Masculinity
Citation Information
Harper, S. R., Williams, C. D., Pérez II, D., & Morgan, D. L. (2012). His experience: Toward a phenomenological understanding of academic capital formation among Black and Latino male students.
Readings on Equal Education, 26
, 65-87.