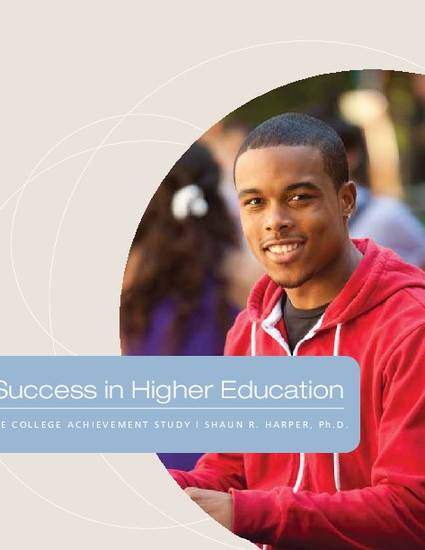 Other
Black Male Student Success in Higher Education: A Report from the National Black Male College Achievement Study
(2012)
Abstract
This report is the inaugural publication from the Center for the Study of Race and Equity in Education (www.gse.upenn.edu/equity)
Black men's dismal college enrollments, disengagement and underachievement, and low rates of baccalaureate degree completion are among the most pressing and complex issues in American higher education. Perhaps more troubling than the problems themselves is the way they are continually mishandled by educators, policymakers, and concerned others. Amplifying the troubled status of Black male students at all levels of education has, unfortunately, yielded few solutions. Thus, educational outcomes for this population have remained stagnant or worsened in recent years. This is attributable, at least in part, to the deficit orientation that is constantly reinforced in media, academic research journals, and educational practice. To increase their educational attainment, the popular one-sided emphasis on failure and low-performing Black male undergraduates must be counterbalanced with insights gathered from those who somehow manage to navigate their way to and through higher education, despite all that is stacked against them. This report is based on the National Black Male College Achievement Study, the largest-ever qualitative research study of Black undergraduate men. Offered in the report are key insights on success from achievers at 42 colleges and universities in 20 states across the U.S. Also included are details about the research design and methods; information on the full sample and participating institutions; profiles of a few study participants; a summary of key findings from the study; and implications for educators, administrators, families, and policymakers.
Citation Information
Harper, S. R. (2012).
Black male student success in higher education: A report from the national Black male college achievement study
. Philadelphia: University of Pennsylvania, Center for the Study of Race and Equity in Education.