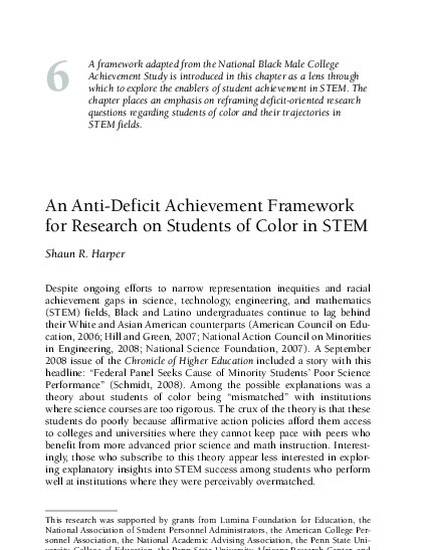 Contribution to Book
An Anti-Deficit Achievement Framework for Research on Students of Color in STEM
Students of Color in STEM: Engineering a New Research Agenda (2010)
Abstract
A framework adapted from the National Black Male College Achievement Study is introduced in this chapter as a lens through which to explore the enablers of student achievement in STEM. The chapter places an emphasis on reframing deficit-oriented research questions regarding students of color and their trajectories in STEM fields.
Citation Information
Harper, S. R. (2010). An anti-deficit achievement framework for research on students of color in STEM. In S. R. Harper & C. B. Newman (Eds.),
Students of color in STEM: Engineering a new research agenda. New Directions for Institutional Research
(pp. 63-74). San Francisco: Jossey-Bass.