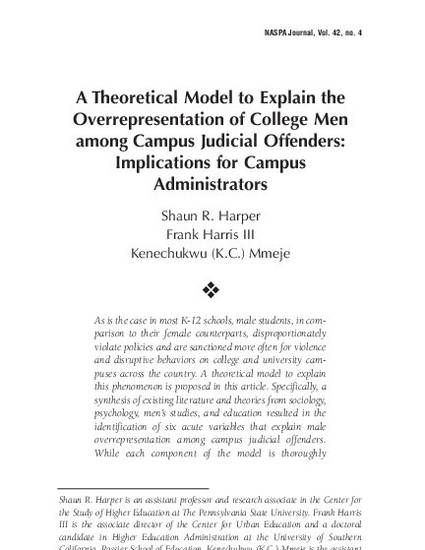 Article
A Theoretical Model to Explain the Overrepresentation of College Men among Campus Judicial Offenders: Implications for Campus Administrators
NASPA Journal (2005)
Abstract
As is the case in most K-12 schools, male students, in comparison to their female counterparts, disproportionately violate policies and are sanctioned more often for violence and disruptive behaviors on college and university campuses across the country. A theoretical model to explain this phenomenon is proposed in this article. Specifically, a synthesis of existing literature and theories from sociology, psychology, men's studies, and education resulted in the identification of six acute variables that explain male overrepresentation among campus judicial offenders. While each component of the model is thoroughly explained, insight into interactions among the six variables is also offered. Practical implications for campus administrators who are interested in minimizing violence and disruptive behaviors among college men conclude the article.
Citation Information
Harper, S. R., & Kimbrough, W. M. Staffing practices, professional preparation trends, and demographics among student affairs administrators at HBCUs: Implications from a national study.
NASAP Journal, 8
(1), 8-25.