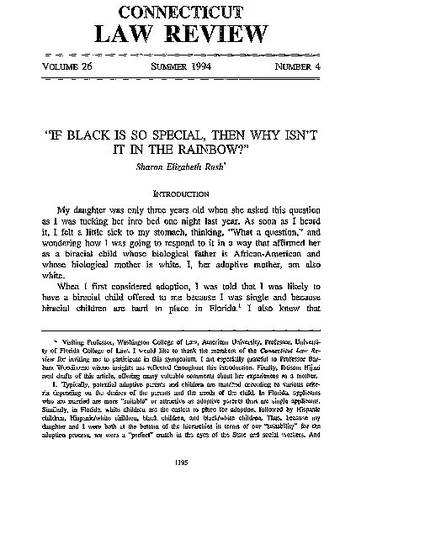 Article
If Black is So Special, then Why isn't it in the Rainbow?
UF Law Faculty Publications
Publication Date
7-1-1994
Abstract
In the modern day, defining "family" becomes less of a theoretical debate when one's own family unit is different from the traditional married, middle-class mother and father with their biological children. For non-traditional families, redefining family takes on enormous practical significance and may actually enable people to create families. Laws permitting transracial adoptions and surrogacy are illustrative. Moreover, a broader definition of family provides greater legal security to non-traditional families. Without such legal protection, non-traditional families live in fear of traditional laws tearing them apart. Rather than using a standard that promotes hegemony in custody disputes, decisionmakers should become aware of their own value preferences and biases to begin to focus on problems posed by racism, sexism, homophobia, classism, and poverty.
Citation Information
Sharon E. Rush,
If Black is So Special, then Why isn't it in the Rainbow?
, 26 Conn. L. Rev. 1195 (1993-1994),
available at
http://scholarship.law.ufl.edu/facultypub/119