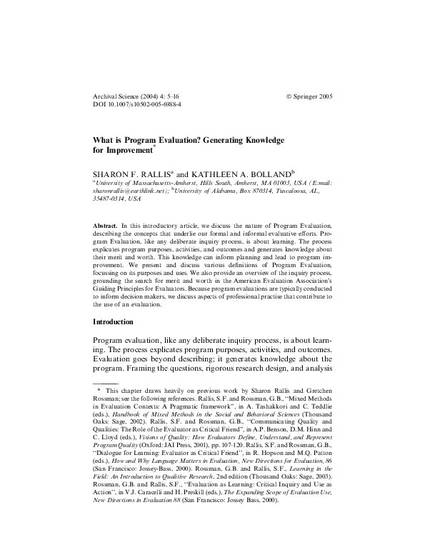 Other
What is Program Evaluation? Generating Knowledge for Improvement
(2004)
Abstract
In this introductory article, we discuss the nature of Program Evaluation,
describing the concepts that underlie our formal and informal evaluative efforts. Program
Evaluation, like any deliberate inquiry process, is about learning. The process
explicates program purposes, activities, and outcomes and generates knowledge about
their merit and worth. This knowledge can inform planning and lead to program improvement.
We present and discuss various definitions of Program Evaluation,
focussing on its purposes and uses. We also provide an overview of the inquiry process,
grounding the search for merit and worth in the American Evaluation Association's
Guiding Principles for Evaluators. Because program evaluations are typically conducted
to inform decision makers, we discuss aspects of professional practise that contribute to
the use of an evaluation.
Citation Information
Sharon F. Rallis and Kathleen A Bolland. "What is Program Evaluation? Generating Knowledge for Improvement" (2004)
Available at: http://works.bepress.com/sharon_rallis/7/