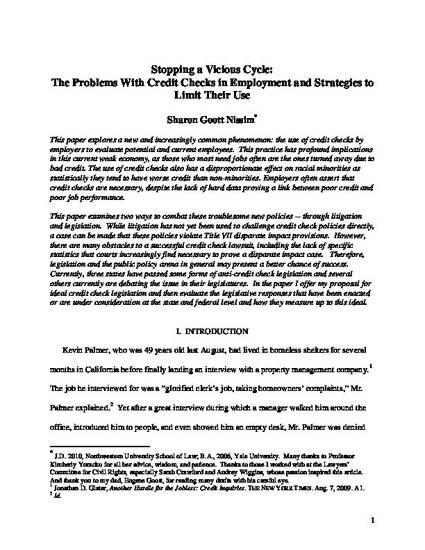 Unpublished Paper
STOPPING A VICIOUS CYCLE: THE PROBLEMS WITH CREDIT CHECKS IN EMPLOYMENT AND STRATEGIES TO LIMIT THEIR USE
ExpressO (2010)
Abstract
This paper explores a new and increasingly common phenomenon: the use of credit checks by employers to evaluate potential and current employees. This practice has profound implications in this current weak economy, as those who most need jobs often are the ones turned away due to bad credit. The use of credit checks also has a disproportionate effect on racial minorities as statistically they tend to have worse credit than non-minorities. Employers often assert that credit checks are necessary, despite the lack of hard data proving a link between poor credit and poor job performance.
This paper examines two ways to combat these troublesome new policies -- through litigation and legislation. While litigation has not yet been used to challenge credit check policies directly, a case can be made that these policies violate Title VII disparate impact provisions. However, there are many obstacles to a successful credit check lawsuit, including the lack of specific statistics that courts increasingly find necessary to prove a disparate impact case. Therefore, legislation and the public policy arena in general may present a better chance of success. Currently, three states have passed some forms of anti-credit check legislation and several others currently are debating the issue in their legislatures. In the paper I offer my proposal for ideal credit check legislation and then evaluate the legislative responses that have been enacted or are under consideration at the state and federal level and how they measure up to this ideal.
Keywords
credit checks,
Title VII,
disparate impact
Publication Date
August 24, 2010
Citation Information
Sharon Goott Nissim. "STOPPING A VICIOUS CYCLE: THE PROBLEMS WITH CREDIT CHECKS IN EMPLOYMENT AND STRATEGIES TO LIMIT THEIR USE"
ExpressO
(2010)
Available at: http://works.bepress.com/sharon_nissim/1/