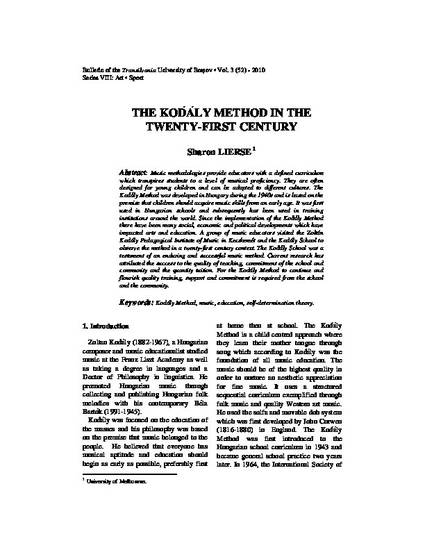 Article
The Kodaly method in the twenty first century
Bulletin of the Transilvannia University of Brasov (2010)
Abstract
Music methodologies provide educators with a defined curriculum which transpires students to a level of musical proficiency. They are often designed for young children and can be adapted to different cultures. The Kod_a_ly Method was developed in Hungary during the 1940s and is based on the premise that children should acquire music skills from an early age. It was first used in Hungarian schools and subsequently has been used in training institutions around the world. Since the implementation of the Kod_a_ly Method there have been many social, economic and political developments which have impacted arts and education. A group of music educators visited the Zoltán Kodály Pedagogical Institute of Music in Kecskemét and the Kodály School to observe the method in a twenty-first century context. The Kod_a_ly School was a testament of an enduring and successful music method. Current research has attributed the success to the quality of teaching, commitment of the school and community and the quantity tuition. For the Kodály Method to continue and flourish quality training, support and commitment is required from the school and the community.
Keywords
Kodaly Method,
Music,
Education,
Self-determination theory,
Methodologies,
Curriculum,
Students,
Skills,
Music method,
Training
Citation Information
Sharon Lierse. "The Kodaly method in the twenty first century"
Bulletin of the Transilvannia University of Brasov
Vol. 3 Iss. 52 (2010)
Available at: http://works.bepress.com/sharon_lierse/11/