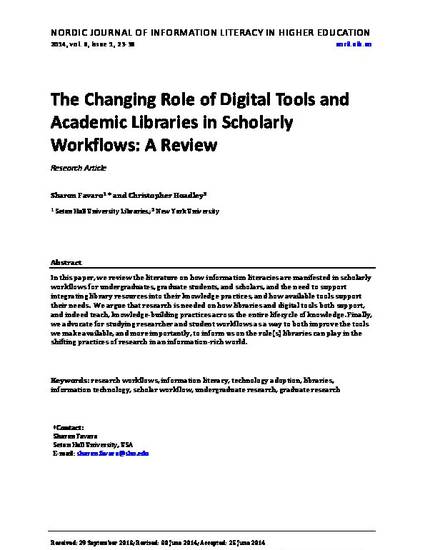 Article
The Changing Role of Digital Tools and Academic Libraries in Scholarly Workflows: A Review
Nordic Journal of Information Literacy in Higher Education (2014)
Abstract
In this paper, we review the literature on how information literacies are manifested in scholarly workflows for undergraduates, graduate students, and scholars, and the need to support integrating library resources into their knowledge practices, and how available tools support their needs. We argue that research is needed on how libraries and digital tools both support, and indeed teach, knowledge-building practices across the entire lifecycle of knowledge. Finally, we advocate for studying researcher and student workflows as a way to both improve the tools we make available, and more importantly, to inform us on the role(s) libraries can play in the shifting practices of research in an information-rich world.
Keywords
research workflows,
information literacy,
technology adoption,
libraries,
information technology,
scholar workflow,
undergraduate research,
graduate research
Citation Information
Sharon Favaro and Christopher Hoadley. "The Changing Role of Digital Tools and Academic Libraries in Scholarly Workflows: A Review"
Nordic Journal of Information Literacy in Higher Education
Vol. 6 Iss. 1 (2014)
Available at: http://works.bepress.com/sharon_favaro/6/