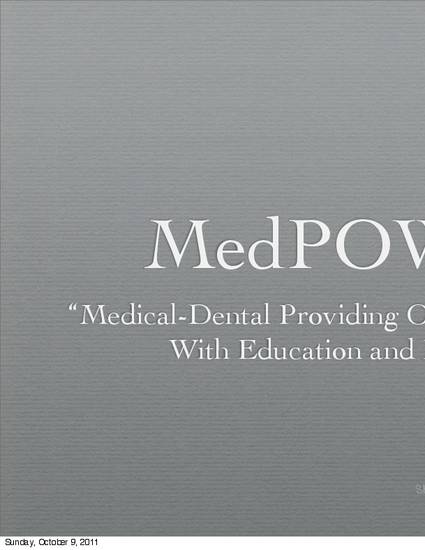 Presentation
MedPOWER: Teaming Up to Make a Difference
Midwest Chapter Medical Library Association/Indiana Health Sciences Librarians Association Annual Meeting
Document Type
Presentation
Presentation Date
10-9-2011
Conference Name
Midwest Chapter Medical Library Association/Indiana Health Sciences Librarians Association Annual Meeting
Conference Location
Indianapolis, IN
Abstract
TASK: To encourage minority and disadvantaged youth in Northeast Indiana to pursue careers in medicine and dentistry, so these future health care professionals may consider practicing in urban underserved and rural communities upon graduation - helping to reduce health disparities.
Solution: Med-POWER (Medical – Dental Providing Opportunities With Education and Research) an intensive four-week summer enrichment program for health care goal-oriented college students, designed to 1) expose participants to careers in medicine and dentistry, 2) give students direct hands on training in developing literature reviews on specific research proposals addressing health disparities in their communities, 3) health disparities education regarding class, race, poverty, rural and farm health, and behavioral health care needs, and 4) job shadowing in urban underserved and rural health care centers for the purpose of developing competitive applicants for dental and medical schools. The MedPOWER Program was developed by the Northeast Indiana Area Heath Education Center, with a mission "To improve the supply, demand and distribution of quality health care professionals and support personnel through collaborative community and academic partnerships." Partnership with the local academic community and the IPFW Helmke Library has become an integral part of the program, helping students strive to increase critical thinking skills, increase their ability to evaluate information, locate evidence, and synthesis material. This paper will discuss the history and development of the MedPOWER Program and the role of the library in the partnership, highlighting the team approach the organizers used to reach the students and give a brief overview of participant outcomes.
Citation Information
Shannon F Johnson and Mary K. Ross. "MedPOWER: Teaming Up to Make a Difference"
Midwest Chapter Medical Library Association/Indiana Health Sciences Librarians Association Annual Meeting
(2011)
Available at: http://works.bepress.com/shannon_johnson/13/