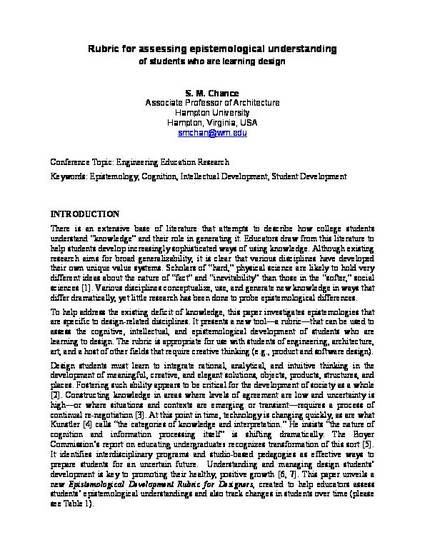 Presentation
Rubric for assessing epistemological development of students who are learning design
European Society for Engineering Education (SEFI) (2012)
Abstract
There is an extensive base of literature that attempts to describe how college students understand "knowledge" and their role in generating it. Educators draw from this literature to help students develop increasingly sophisticated ways of using knowledge. Although existing research aims for broad generalizability, it is clear that various disciplines have developed their own unique value systems. Scholars of "hard," physical science are likely to hold very different ideas about the nature of "fact" and "inevitability" than those in the "softer," social sciences [1]. Various disciplines conceptualize, use, and generate new knowledge in ways that differ dramatically, yet little research has been done to probe epistemological differences. To help address the existing deficit of knowledge, this paper investigates epistemologies that are specific to design-related disciplines. It presents a new tool—a rubric—that can be used to assess the cognitive, intellectual, and epistemological development of students who are learning to design. The rubric is appropriate for use with students of engineering, architecture, art, and a host of other fields that require creative thinking (e.g., product and software design).
Keywords
Epistemology,
Cognition,
Intellectual Development,
Student Development
Citation Information
Shannon M. Chance. "Rubric for assessing epistemological development of students who are learning design"
European Society for Engineering Education (SEFI)
(2012)
Available at: http://works.bepress.com/shannon_chance/17/