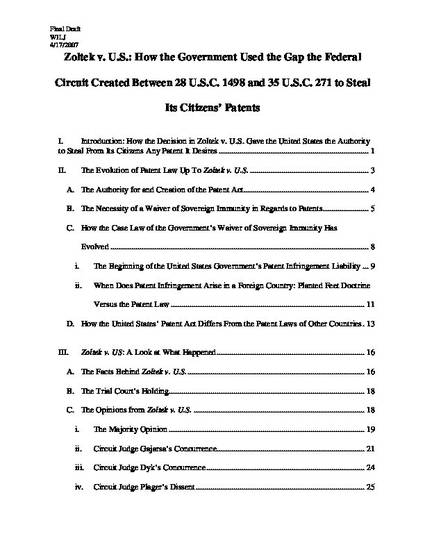 Unpublished Paper
Zoltek v. U.S.: How the Government Used the Gap the Federal Circuit Created Between 28 U.S.C. 1498 and 35 U.S.C. 271 to Steal Its Citizens' Patents
ExpressO (2007)
Abstract
In early 2006, the Federal Circuit Court of Appeals heard the case Zoltek Corp. v. U.S. In that case, the court decided that aggrieved patent owners could not seek justice under 28 U.S.C. 1498, the sovereign's waiver of immunity to patent infringement, for a process patent used by the United States, where the government practiced at least one step outside the United States. This holding is unfair and against the legislative history of section 1498. When lawmakers first created section 1498, they intended to hold the government as liable for patent infringement as a private citizen was under section 271. However, as lawmakers amended section 271, creating more liability for private citizens, they did not equally amend section 1498. Now, there is gap between the amount of liability for the government and that of a private citizen. To solve this injustice, the legislature needs to amend either section 1498 or the Patent Act.
One solution is to simply amend 28 U.S.C. 1498 to have a subsection waiving the sovereigns immunity to action as defined in 35 U.S.C. 271(g). This solution leaves out the other amendments to section 271, such as subsection (f), and any future amendments. A better solution is to provide relief against the government in the Patent Act, as so many other countries have chosen to do. This solution inherently incorporates all present and future amendments and levels the liability for the government and private actors. This solution is also congruent with the patent laws of most of the United States' allies.
Keywords
28 U.S.C. 1498,
35 U.S.C. 271,
Sovereign Immunity,
Process Patents,
Infringement,
Zoltek
Publication Date
April, 2007
Citation Information
Shane M Delsman. "Zoltek v. U.S.: How the Government Used the Gap the Federal Circuit Created Between 28 U.S.C. 1498 and 35 U.S.C. 271 to Steal Its Citizens' Patents"
ExpressO
(2007)
Available at: http://works.bepress.com/shane_delsman/1/