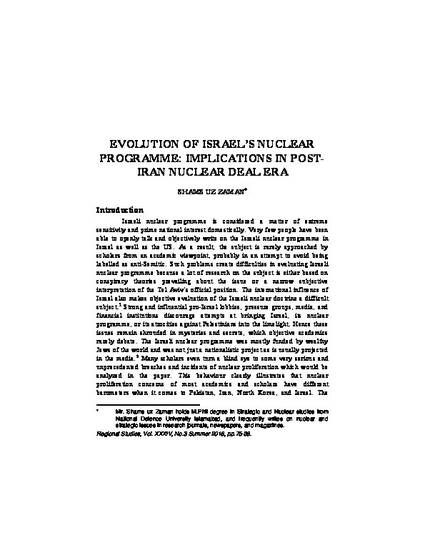 Article
Evolution of Israel's Nuclear Programme: Implications in Post Iran Nuclear Deal Era
Regional Studies (2016)
Abstract
Israel has always perceived itself to be in a security dilemma which emanates from its historical threat perceptions. Consequently Israeli nuclear programme has generally found a support in Western capitals and media. After the Iran nuclear deal, Israel's regional dominance faces new challenges. Israel has mostly enjoyed unprecedented covert support from its European allies and the US over its nuclear programme. Evaluation of Israeli nuclear policy and doctrine reveals a critical role of numerous western states in making Israel an undeclared and an unparalleled nuclear power in the Middle East. Israel heavily relies on its nuclear weapons capability to ensure its security and regional hegemony but the equation is likely to change after the Iran nuclear deal. Consequently Israeli dominance can be challenged by Iran due to its rising stature while remaining a nuclear weapon threshold state in post-nuclear deal era. However Iran enjoyed extremely cordial relationship with Israel before the 1979 Iranian revolution and if the deal remains intact, Iran and Israel may look for areas of cooperation. Nevertheless if the JCPOA fails, Israel may strike Iranian nuclear installations with the US assistance.
Keywords
Iran,
Israel,
Middle East,
Nuclear,
JCPOA,
Nuclear Weapons,
Nuclear proliferation,
Israel Nuclear Programme,
Israel Nuclear Policy,
Israel Nuclear Weapons,
Israel Nuclear Doctrine,
Iran Nuclear Deal,
Dimona,
NUMEC,
Plumbat Affair
Publication Date
Summer 2016
DOI
http://www.irs.org.pk/journal/RSSummer2016.pdf
Citation Information
Shams uz Zaman, "Evolution of Israel's Nuclear Programme: Implications in Post-Iran Nuclear Deal", Regional Studies, Vol. XXXIV, No.3, Summer 2016, pp.75-98.