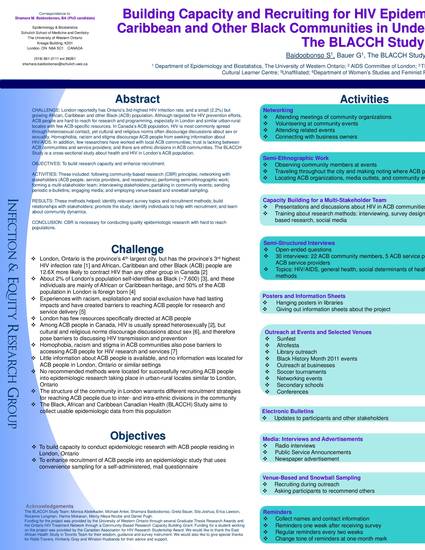 Presentation
Building Capacity and Recruiting for HIV Epidemiologic Studies with African, Caribbean and other Black Communities in Understudied Urban-Rural Locales: The BLACCH Study
3rd North American Congress of Epidemiology (2011)
Abstract
London reportedly has Ontario's 3rd-highest HIV infection rate, and a small (2.2%) but growing African, Caribbean and other Black (ACB) population. Although targeted for HIV prevention efforts, ACB people are hard to reach for research and programming, especially in London and similar urban-rural locales with few ACB-specific resources. In Canada's ACB population, HIV is most commonly spread through heterosexual contact, yet cultural and religious norms often discourage discussions about sex or sexuality. Homophobia, racism and stigma discourage ACB people from seeking information about HIV/AIDS. In addition, few researchers have worked with local ACB communities; trust is lacking between ACB communities and service providers; and there are ethnic divisions in ACB communities. The BLACCH Study is a cross-sectional study about health and HIV in London's ACB population. To build research capacity and enhance recruitment, a variety of methods and strategies were employed. These included: following community-based research (CBR) principles; networking with stakeholders (ACB people, service providers, and researchers); performing semi-ethnographic work; forming a multi-stakeholder team; interviewing stakeholders; partaking in community events; sending periodic e-bulletins; engaging media; and employing venue-based and snowball sampling. These methods helped: identify relevant survey topics and recruitment methods; build relationships with stakeholders; promote the study; identify individuals to help with recruitment; and learn about community dynamics. CBR is necessary for conducting quality epidemiologic research with hard to reach populations.
Publication Date
June, 2011
Citation Information
Shamara M Baidoobonso, Greta Bauer and The BLACCH Study Team. "Building Capacity and Recruiting for HIV Epidemiologic Studies with African, Caribbean and other Black Communities in Understudied Urban-Rural Locales: The BLACCH Study"
3rd North American Congress of Epidemiology
(2011)
Available at: http://works.bepress.com/shamara_baidoobonso/8/