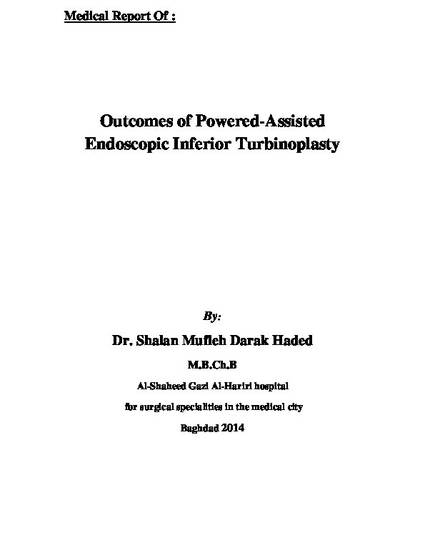 Thesis
Outcomes of Powered-Assisted Endoscopic Inferior Turbinoplasty
(2014)
Abstract
Aim of study:
evaluation the outcomes of powered-assisted endoscopic inferior turbinoplasty in relieving the nasal obstruction.
Methods:
study included 25 patients complaining from persistent nasal obstruction of more than 6 months despite of medical treatment for about 3 months. A powered-assisted endoscopic inferior turbinoplasty was done for each patient and the patients were followed for the 1st week, 1st month and 3rd month post-operatively.
Results:
Preoperatively, nasal obstruction was 12% moderate and 88% severe while postoperative 3rd  month 80% had no nasal obstruction and 20% had still mild obstruction. In other hand, the endoscopic grading of inferior turbinate was 76% grade III and 24% grade II in preoperative evaluation, then it became 88% grade I and 12% grade II in postoperative 3rd month. Therefore, there is significant changes in both nasal obstruction and  turbinate size(p value=<0.05).
24% of patients developed mucosal tear during surgery without mucosal loss, 8% developed mild bleeding during removal of the packs and it needed only digital pressure to stop, 8% of patients developed crust formation during the 1st month postoperatively, then after instructing the patients to use nasal saline wash along with antibiotics for 2weeks, the crust disappeared.
Conclusion:
outcomes of powered-assisted endoscopic inferior turbinoplasty were significant regarding relieving the nasal obstruction with few postoperative complications.
Keywords
Outcomes of Powered-Assisted Endoscopic Inferior Turbinoplasty
Citation Information
shalan haded. "Outcomes of Powered-Assisted Endoscopic Inferior Turbinoplasty" (2014)
Available at: http://works.bepress.com/shalan-haded2/1/