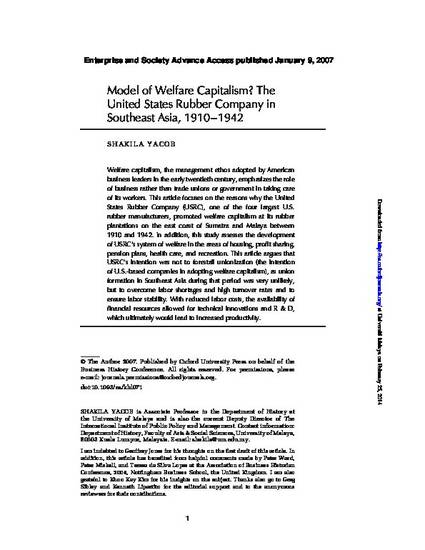 Article
United States Rubber Company in Southeast Asia, 1910-1942
Enterprise and Society (2007)
Abstract
Welfare capitalism, the management ethos adopted by American business leaders in the early twentieth century, emphasizes the role of business rather than trade unions or government in taking care of its workers. This article focuses on the reasons why the United States Rubber Company (USRC), one of the four largest U.S. rubber manufacturers, promoted welfare capitalism at its rubber plantations on the east coast of Sumatra and Malaya between 1910 and 1942. In addition, this study assesses the development of USRC's system of welfare in the areas of housing, profit sharing, pension plans, health care, and recreation. This article argues that USRC's intention was not to forestall unionization (the intention of U.S.-based companies in adopting welfare capitalism), as union formation in Southeast Asia during that period was very unlikely, but to overcome labor shortages and high turnover rates and to ensure labor stability. With reduced labor costs, the availability of financial resources allowed for technical innovations and R & D, which ultimately would lead to increased productivity.
Keywords
Welfare Capitalism,
Labor relations,
United States Rubber Company,
Southeast Asia
Citation Information
Shakila Yacob. "United States Rubber Company in Southeast Asia, 1910-1942"
Enterprise and Society
Vol. 8 Iss. 1 (2007)
Available at: http://works.bepress.com/shakila_yacob/3/