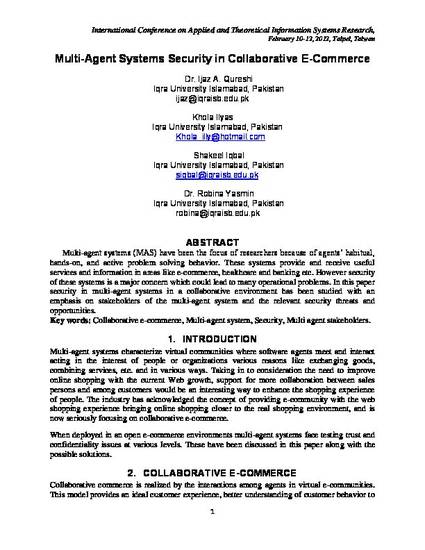 Article
Multi-agent Systems Security in Collaborative E-commerce
International Conference on Applied and Theoretical Information Systems Research, February 10-12, Taipei, Taiwan (2012)
Abstract
Multi-agent systems (MAS) have been the focus of researchers because of agents' habitual, hands-on, and active problem solving behavior. These systems provide and receive useful services and information in areas like e-commerce, healthcare and banking etc. However security of these systems is a major concern which could lead to many operational problems. In this paper security in multi-agent systems in a collaborative environment has been studied with an emphasis on stakeholders of the multi-agent system and the relevant security threats and opportunities.
Keywords
Collaborative e-commerce,
Multi-agent system,
Security,
Multi agent stakeholders.
Citation Information
Shakeel Iqbal, Ijaz A. Qureshi, Khola Ilyas and Robina Yasmin. "Multi-agent Systems Security in Collaborative E-commerce"
International Conference on Applied and Theoretical Information Systems Research, February 10-12, Taipei, Taiwan
(2012)
Available at: http://works.bepress.com/shakeel_iqbal/7/