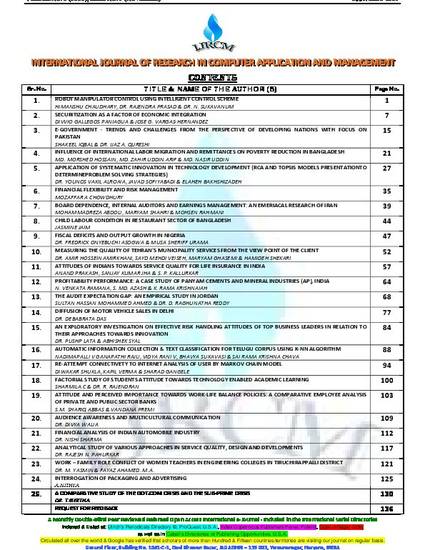 Article
E-Government - Trends and Challenges from the Perspective of Developing Nations with focus on Pakistan
International Journal of Research in Computer Application and Management (2011)
Abstract
Efforts to create e-governments are going on in different countries of the world at varying pace. Some countries are the leaders while others are followers of this technology. The promises made by the proponents of this system are yet to materialize. The spread and usage of this technology is uneven mainly because of the digital divide amongst the IT haves and have not's. The cost-benefit equation is not yet clear even to the leaders of this technology. Developing countries face certain challenges which are not there at all or are very minimal in developed countries. Different hurdles on demand as well as supply side of e-government exist; as a result developing countries lag far behind developed countries in this form of governance. A careful analysis of these impediments shows that the supply side constraints are relatively easier to address as compared to the demand side constraints.
Keywords
E-government,
technology,
developing countries,
technology adoption challenges
Citation Information
Shakeel Iqbal and Ijaz A. Qureshi. "E-Government - Trends and Challenges from the Perspective of Developing Nations with focus on Pakistan"
International Journal of Research in Computer Application and Management
Vol. 1 Iss. 9 (2011)
Available at: http://works.bepress.com/shakeel_iqbal/3/