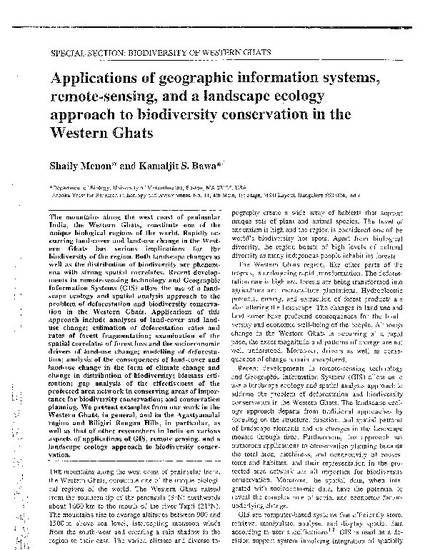 Article
Applications of Geographic Information Systems, Remote-Sensing, and a Landscape Ecology Approach to Biodiversity Conservation in the Western Ghats
Current Science (1997)
Abstract
The mountains along the west coast of peninsular India, the Western Ghats, constitute one of the unique biological regions of the world. Rapidly occurring land-cover and land-use change in the Western Ghats has serious implications for the biodiversity of the region. Both landscape changes as well as the distribution of biodiversity are phenomena with strong spatial correlates. Recent developments in remote-sensing technology and Geographic Information Systems (GIS) allow the use of a landscape ecology and spatial analysis approach to the problem of deforestation and biodiversity conservation in the Western Ghats. Applications of this approach include analyses of land-cover and land-use change; estimation of deforestation rates and rates of forest fragmentation; examination of the spatial correlates of forest loss and the socioeconomic drivers of land-use change; modeling of deforestation; analysis of the consequences of land-cover and land-use change in the form of climate change and change in distribution of biodiversity; biomass estimation; gap analysis of the effectiveness of the protected area network in conserving areas of importance for biodiversity conservation; and conservation planning. We present examples from our work in the Western Ghats, in general, and in the Agastyamalai region and Biligiri Rangan Hills, in particular, as well as that of other researchers in India on various aspects of applications of GIS, remote-sensing, and a landscape ecology approach to biodiversity conservation.
Keywords
geographic information systems,
GIS,
biodiversity conservation,
biodiversity,
landscape ecology,
Western Ghats
Publication Date
July, 1997
Citation Information
Shaily Menon and Kamaljit S Bawa. "Applications of Geographic Information Systems, Remote-Sensing, and a Landscape Ecology Approach to Biodiversity Conservation in the Western Ghats"
Current Science
Vol. 73 Iss. 2 (1997)
Available at: http://works.bepress.com/shaily_menon/10/