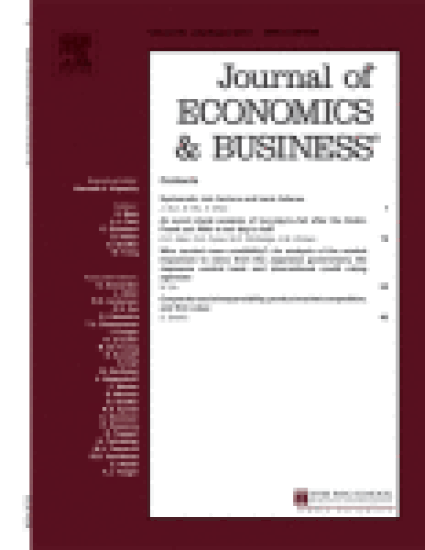 Article
Corporate social responsibility, product market competition, and firm value
Journal of Economics and Business (2018)
Abstract
This study empirically examines if and how product market competition influences the relation between corporate social responsibility (CSR) and firm value using a panel data set for the period 2003–2015. It explicitly recognizes the endogeneity of CSR and uses instrumental variable (IV-GMM) estimation regressions. Results indicate that CSR is positively associated with market value of a firm measured by industry adjusted Tobin's Q. However, this relation is influenced by product market competition and product fluidity. Specifically, CSR has no impact on firm value in firms that operate in low product competition environments or face low product fluidity. Furthermore, results show that the effect of CSR is driven by CSR strengths as CSR concerns have no effect on firm value. Additional tests show that community, diversity and environment dimensions are the main contributors to the total effect of CSR.
Keywords
CSR; Firm Value; Endogeneity; Instrumental Variables
Publication Date
July, 2018
DOI
https://doi.org/10.1016/j.jeconbus.2018.07.001
Citation Information
Shahbaz A Sheikh. "Corporate social responsibility, product market competition, and firm value"
Journal of Economics and Business
Vol. 98 (2018) p. 40 - 55
Available at: http://works.bepress.com/shahbaz_sheikh/17/