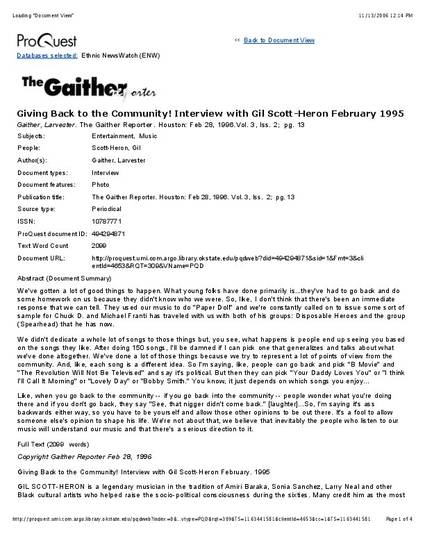 Popular Press
"Giving Back to the Community!" Interview with Gil Scott-Heron, February 1995
Gaither Reporter (1996)
Abstract
GIL SCOTT-HERON is a legendary musician in the tradition of Amiri Baraka, Sonia Sanchez, Larry Neal and other Black cultural artists who helped raise the socio-political consciousness during the sixties. Many credit him as the most influential figure in the early genesis of rap music. His incorporation of wordsongs throughout most of his music helped lay the basis for today's rap artists. Beginning in 1970 with SMALL TALK AT 125TH & LENOX, he has recorded over 22 albums, published two novels and three works of poetry, and has performed throughout the world. In 1994, Gil Scott-Heron, after a 12-year absence from the music studio, released the album SPIRITS. During February of 1994, he toured America performing for various causes -- in this case, the struggle of death-penalty abolitionist Gary Graham. Moments before a high-spirited performance, Gil Scott-Heron talked to journalists Larvester Gaither, Lynn Page, Bakari Kitwana, and political historian & educator Amilcar Shabazz.
Keywords
Entertainment,
Music,
Social Justice,
Death Penalty
Publication Date
February 28, 1996
Citation Information
Amilcar Shabazz. ""Giving Back to the Community!" Interview with Gil Scott-Heron, February 1995"
Gaither Reporter
Vol. 3 Iss. 2 (1996)
Available at: http://works.bepress.com/shabazz_a/3/