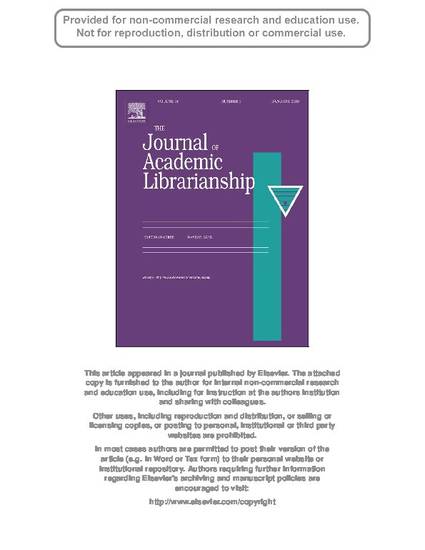 Article
Learning and Engaging the Information Values of a Karst Community of Practice
The Journal of Academic Librarianship (2010)
Abstract
The Karst Information Portal (KIP) is a publicly accessible Internet portal for karst literature and data, hosted by the University of South Florida (USF) libraries. It was created to foster interaction and collaboration among the karst community by identifying, acquiring, and facilitating access to karst literature in a single, centralized location. Karst is a type of terrain typified by soluble rocks, such as limestone, gypsum, and dolomite, where solutional processes are dominant, forming sinkholes, depressions, caves, and enhancing underground drainage. The karst community consists of formal researchers working in academic or governmental institutions along with an informal cohort of recreational caving enthusiasts. Both halves of this professional and recreational community seek to explore caves and broaden our understanding of this environment; accordingly, both the formal researchers and informal cavers have something unique to contribute to the growing understanding of karst environments. The Communities of Practice (CoPs) model is a valuable means to assess knowledge development, sharing, and management among an informal association of individuals. In this article, we explore the variety of karst data and knowledge collected and organized by the recreational cavers in West Central Florida. By exploring the competing information values surrounding karst information, this article proposes strategies for the Karst Information Portal to promote trust, community engagement, and expand our scientific understanding and protection of karst environments.
Citation Information
Kaya van Beynen and Spencer Fleury. "Learning and Engaging the Information Values of a Karst Community of Practice"
The Journal of Academic Librarianship
Vol. 36 Iss. 1 (2010)
Available at: http://works.bepress.com/sfleury/6/