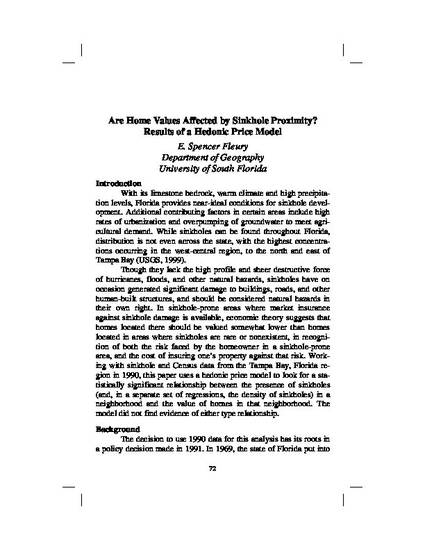 Article
Are Home Values Affected by Sinkhole Proximity? Results of a Hedonic Price Model
The Florida Geographer (2007)
Abstract
Though they lack the high profile and sheer destructive force of hurricanes, floods, and other natural hazards, sinkholes have on occasion generated significant damage to buildings, roads, and other human-built structures, and should be considered natural hazards in their own right. In sinkhole-prone areas where market insurance against sinkhole damage is available, economic theory suggests that homes located there should be valued somewhat lower than homes located in areas where sinkholes are rare or nonexistent, in recognition of both the risk faced by the homeowner in a sinkhole-prone area, and the cost of insuring one's property against that risk. Working with sinkhole and Census data from the Tampa Bay, Florida region in 1990, this paper uses a hedonic price model to look for a statistically significant relationship between the presence of sinkholes (and, in a separate set of regressions, the density of sinkholes) in a neighborhood and the value of homes in that neighborhood. The model did not find evidence of either type relationship.
Keywords
karst,
GIS,
sinkholes,
Florida
Citation Information
Spencer Fleury. "Are Home Values Affected by Sinkhole Proximity? Results of a Hedonic Price Model"
The Florida Geographer
(2007)
Available at: http://works.bepress.com/sfleury/5/