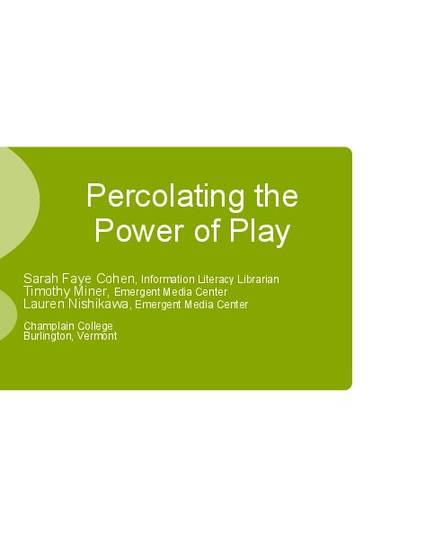 Presentation
Percolating the Power of Play
Association of College and Research Libraries' Conference: Seattle, WA
Publication Date
3-13-2009
Abstract
The Champlain College Library asked students from our Electronic Game Design Program and the Emergent Media Center to create a game to complement our Information Literacy (IL) program. Little did we know that this collaboration would lead us to question and re-envision what we mean by information literacy. Through the library-student collaboration, it became clear to the Library that words like authority, credibility, reliability, and currency were being used superficially. Clearly, our information literacy efforts needed to focus more on which factors were needed rather than prescribed. In a more abstract environment, like a game, the focus shifts from filling in the right answer to seeking and using the best information in a non-traditional context, as a demonstration of the game will show. Champlain's IL program now encourages students to recognize and apply information literacy across multiple contexts. By identifying, discussing, and analyzing the information they use every day, students articulate their expectations and goals for the information they use. Those expectations and goals influence their information seeking in all situations, thereby bringing information literacy into students' lives, not just their assignments. Game Design students' reactions and understanding of information literacy have shaped the pedagogical approach to information literacy on our campus. Our information literacy program capitalizes and expands on students' prepossessed knowledge and asks them to be cognizant of these skills in all situations. In doing so, we have an information literacy program that we think will make a difference in students' lives.
Citation Information
Sarah Faye Cohen, Timothy Miner and Lauren Nishikawa. "Percolating the Power of Play"
Association of College and Research Libraries' Conference: Seattle, WA
(2009) p. 1 - 24
Available at: http://works.bepress.com/sfcohen/9/