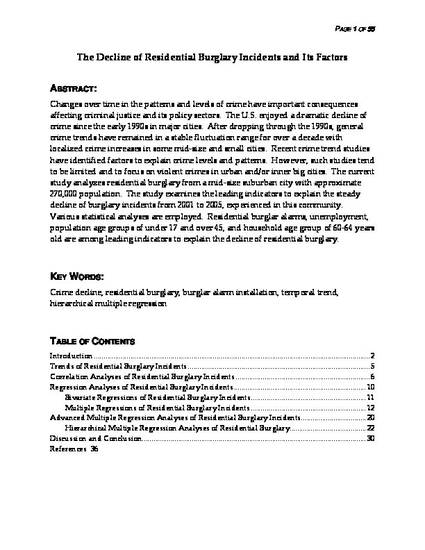 Unpublished Paper
The Decline of Residential Burglary Incidents and Its Factors
ExpressO (2010)
Abstract
Changes over time in the patterns and levels of crime have important consequences affecting criminal justice and its policy sectors. The U.S. enjoyed a dramatic decline of crime since the early 1990s in major cities. After dropping through the 1990s, general crime trends have remained in a stable fluctuation range for over a decade with localized crime increases in some mid-size and small cities. Recent crime trend studies have identified factors to explain crime levels and patterns. However, such studies tend to be limited and to focus on violent crimes in urban and/or inner big cities. The current study analyzes residential burglary from a mid-size suburban city with approximate 270,000 population. The study examines the leading indicators to explain the steady decline of burglary incidents from 2001 to 2005, experienced in this community. Various statistical analyses are employed. Residential burglar alarms, unemployment, population age groups of under 17 and over 45, and household age group of 60-64 years old are among leading indicators to explain the decline of residential burglary.
Keywords
Crime decline,
residential burglary,
burglar alarm installation,
temporal trend,
hierarchical multiple regression
Publication Date
March 28, 2010
Citation Information
Seungmug Lee. "The Decline of Residential Burglary Incidents and Its Factors"
ExpressO
(2010)
Available at: http://works.bepress.com/seungmug_lee/1/